I always have people asking about open when letters. The most common question I get is about open when letters for a significant other, but the second most common is open when letter ideas for college kids.
No it's been awhile since I was a college student myself, and while I think these letters I sent my sister have some pretty great ideas in them, I've come up with a few specifically for college students.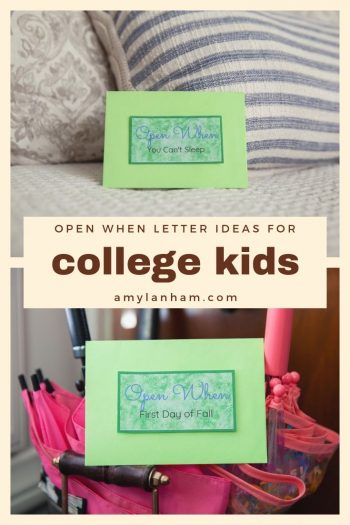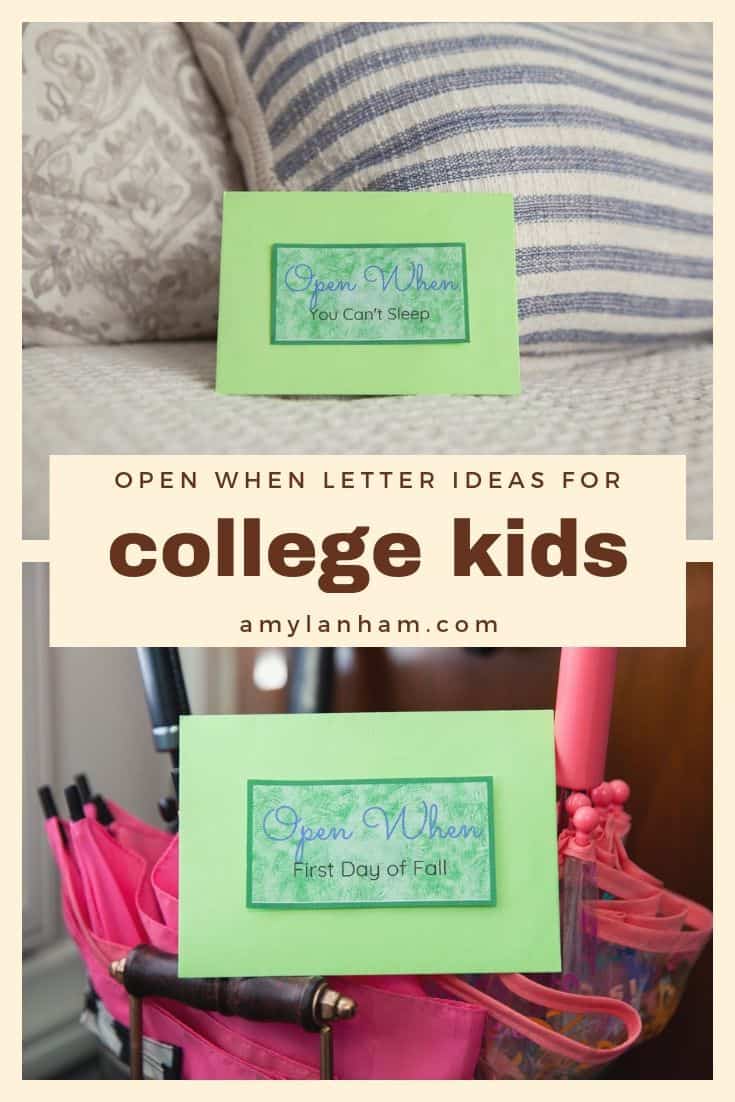 DISCLOSURE: This post may contain affiliate links. If you purchase items through my links I may earn a commission. You will not pay more when buying a product through my link and you do not have to use my links. I only recommend products & systems that I use and love myself, so I know you'll be in good hands. You can find our full policy here. Thank you in advance for your support.
Before we get into the letters, I want to hit on a frequently asked question. I often have people email me asking for ideas for their child, significant other, best friend, etc.
It's so hard for me to help without knowing a little bit about them. You know these people best and you know what they like. So if it helps, work backwards.
Think about what they would love to receive. Do they love to play video games? Open when you need to relax and slip a gift card in there.
Do you have a special date that you always go on? My sister and I love to go for sushi together. Open when you need a girls date, some money for sushi.
Do they have a favorite food? Maybe something spicy, sweet, salty? Open when you're feeling (spicy, sweet, salty) and include the special food.
You want to tailor this gift perfectly to the recipient. And my best advice for that is to write down their favorite things. The things that they would love to receive or their favorite activities. Then work backwards from there.
You can find free printable Open When Letter labels in the VIP Library! Make sure to check it out!


Open When Letter Ideas for College Kids
Here are some great ideas for open when letter ideas for college kids. Most of these are for kids going away to college. If you have a kid whose staying home, or not moving far, a few of these will work too.
Make sure to check out the rules for open when letters as well. This keeps them from opening them all the first day!
Open When You Home
I think every college kid misses their family at some point in time. A letter and some pictures of home should help them.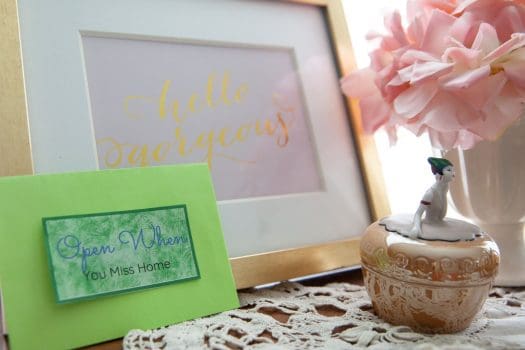 Open When You Pass Your First Test
This is cause for a celebration! College tests can be terrifying. Candy, confetti, congrats banner. Make it fun!


Open When You Have a Hard Day
College can be a lot of fun, but it can also be really trying. Most people are on their own for the first time and that can be hard. Anything to lift their spirits.
Their favorite candy, a gift card to their favorite store or to get some coffee. You can even include an uplifting quote or a funny picture.
Open When It Snows For The First Time
To be honest, I've never lived in snow. So I'm not exactly sure what would be perfect. I'm thinking hand warmers though. Or you can do a season. First day of Fall, Winter, Spring, or Summer and then something fun and seasonal to go along with it!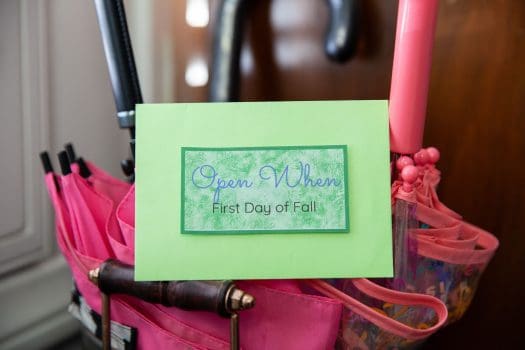 Open When You First Unpack
Or when you leave (if you're helping them unpack). A letter of how proud you are and that you know they'll do a great job. Pictures for their room. Maybe some cute decor or a gift card to a home decor place or organizational place.
Open When You Need a Laugh
Jokes are always great! Inside jokes, funny pictures, memes, etc.
Open When You Need Inspiration
Inspiring quotes, words of encouragement. A letter reminding them of a hard time they've overcome, or reminding them why they are doing this.
Open When You Can't Sleep
Sleeping away from home can be scary. They're probably dealing with new stresses too. Some tea, maybe a book or sudoku to help them relax and get tired.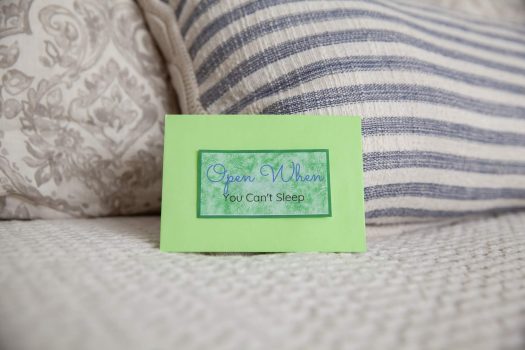 Open When You Need to Vent
A letter letting them know you're always there to talk. Maybe asking them to call you. Some money for a hair cut or to go get their nails done.
Open When You Want to Reminisce
Photos. All the photos. Funny stories or just family stories. Sometimes you just want to be reminded of home.
Open When You Need to Do Laundry
Quarters, sample packs of laundry detergent, a how-to guide on what the laundry symbols inside clothes mean.


Open When You Have a Headache/Hangover
Advil or other pain killer, water bottle, gatorade, sleep mask.
Open When You're Late Night Studying
There are sure to be many late nights spent studying! A reading light, candy or caffeine, highlighters, gift card for coffee or ice cream.
Open When Just Because
Anything you know they will enjoy. Pictures of you. Words of encouragement, a gift card to their favorite store. Think of their favorite item and go from there.
Open When You Run Out Of Underwear
This is sort of along the same lines as when they need to do laundry. New underwear, coins for the laundromat, or a gift card to buy some new undies.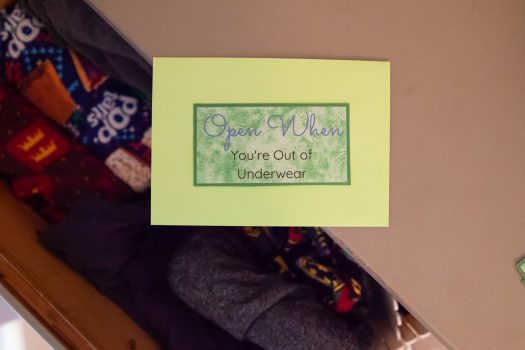 Open On X Date
A special date that they won't be home for. Their birthday, half birthday, a holiday, or maybe a rivalry game of their favorite sport.
Think about what's important to them or something you normally do together yearly and work off of that.
If you have anything you'd like to add, I'd love to hear in the comments below, or you can always reach out to me.