My parents recently moved out to a little prefab home in Arizona. They're about 2 blocks from the Colorado river and 30 minutes from Laughlin.
They love it out there. My dad gets to work in his garage and my mom gets to gamble, redo the house, and paint.
The house is looking so great. It looks cute year round, but Christmas was something special! It's amazing what a couple twinkle lights can do to a space.
My parents home at the river really isn't anything special. It doesn't have a fancy kitchen or any massive updates. But this little home proves that it really is how you decorate a place.
My mom has taken the time to really decorate in a thoughtful manner to make the house feel cozy and like a home. We love spending time out there with my parents.
Christmas Decorations
My mom managed to fit 2 trees into this home and lots of whimsical decor. The tree in her living area is all white. I love the winter wonderland this brings to the room.
And how cute is this little RV Christmas ornament? They bought this because they are planning on traveling the country in their RV. Such a special little ornament.
The tree in her bedroom is decorated with vintage bulbs and is just gorgeous. I love that she uses a basket as a tree base. It's adorable.
She also decorated the deer head in her room with a little crown. That deer was a real deer that my grandpa had stuffed.
I also love the dresser in this room. I think all of the decor along with the tree really makes this room look vintage chic.
I love my moms decorating style. It's unique and special.
In the kitchen she has a coffee bar on top of another beautiful dresser.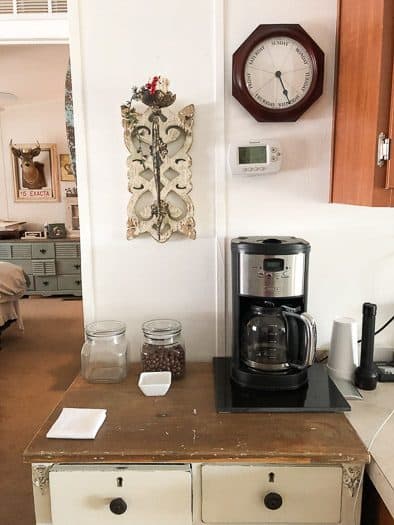 She put her collection of snowmen on top of the kitchen cabinets. This collection has been added to the last couple of years and was always displayed on the mantel at the house. So I love seeing it in here.
There are other very special touches around the house. The chalkboard above the kitchen table.
I also love these vintage trucks. And she has Bugs Mistletoes on display too, of course!
And my DIY candles.
All of her decor is amazing. I think one of the most unique items are these letters that a friend gifted her.
They spell joy and have succulents and moss planted in them. Such a cute little project and so festive!
My mom has this TV stand fireplace that she hung the little countdown stockings that I made years ago. I've been DIYing for as long as I can remember!
Do you go all out for Christmas, or do you just put up a tree?