Valentine's Day is quickly approaching! I don't know about you, but after the holidays I have a hard time getting back into the groove of things. These Valentine's open when letters are the perfect easy gift to give!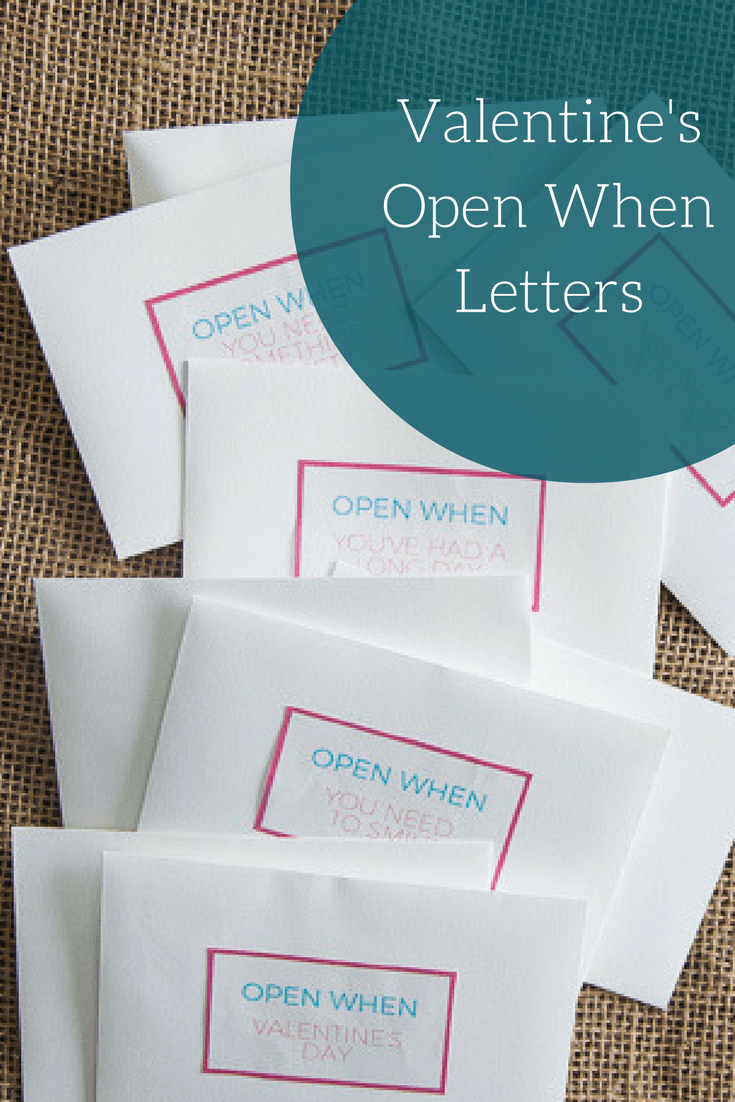 We went out to the river, spent some time working on things for our new Etsy shop, but mostly, we just relaxed. We played with all of Bugs new Christmas toys, explored the textures and shapes of different rocks, and enjoyed having nowhere to be and nothing to do. It was magical.


Because of that, I've been having some difficulty getting back into the "swing of things". After the craziness that was our November-December, it's been nice to get back into a little bit of routine. But I'm still daydreaming about our vacation and counting the days until the next.
I'm sure you are a lot like me. The last thing I want to do after all the holiday madness is to think of more gifts! So this year I'm going to help you out with a super simple Valentine's Day gift.
Valentine's Open When Letters
After I made these Open When Letters for my sister, I knew it would be a really fun gift for John too. It's honestly a really easy gift to put together and with these printables, it's even easier! It took me less than an hour to put the gift together once I had all the supplies. How's that for simple and fun!
If your looking for more even more ideas check out this post on Open When Letter ideas for boyfriend!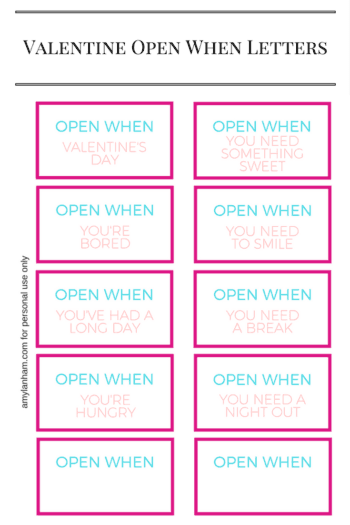 Ideas for Valentine's Open When Letters
Valentine's Day– I created a cute printable that is available in the VIP library. I also wrote a little note thanking my husband for all he does. You could include rules as well, but I decided to leave it out.
DISCLOSURE: This post contains affiliate links. If you purchase items through my links I may earn a commission. You will not pay more when buying a product through my link and you do not have to use my links. I only recommend products & systems that I use and love myself, so I know you'll be in good hands. You can find our full policy here. Thank you in advance for your support.
You're Bored– A gift card to the movies or to Target. I hate going to the movies, and we almost never go, so this is a real treat. He even gets to pick the movie. And he never gets to go to Target to get things just for him. So either one of these would be perfect.


You Need Something Sweet– Chocolate Kisses and the printable that says kisses for my man.
You Need to Smile– A list of jokes. Chuck Norris Jokes and Elephant Jokes are our favorite!
You've Had a Long Day– A couple dollars with this cute print out that says what the money is for – beer. It's not much, but it will definitely make him smile after a long day.
You Need a Break– My husband isn't one for treats, but Kit-Kats and Reese's are his favorite. So I got him one of each. Get it, get it? When you need a break? Break me off a piece of that Kit-Kat bar… Alright, I'm the only one.
You're Hungry– A gift card to In n Out. It's right by his work and our favorite.
You Need a Night Out– A gift card to our favorite restaurant, PF Changs. This is sort of a dual gift, as I expect him to take me too!
To finish off the gift, I tied the letters together with some twine. What do you think of these Valentine's open when letters? It's a pretty cool gift.
I think he'll really enjoy it. Don't forget to sign up to receive this free printable! That way you can give this gift too. If you do this I'd love to hear about it! Comment below with who you'd give this to.
Yield: 1
Valentine's Open When
Perfect Valentine's day gift for that special someone!
Materials
Open When Valentine's Printable
Envelopes
Gift Cards
Money
Chocolates
Other Gifts
Glue
Twine
Instructions
Print out the Valentine's open when printables
Cut out all the labels and the little letters
Glue the labels onto envelopes
Fill the envelopes with gift cards, chocolates, little gifts, and letters
Tie all the completed envelopes together with twine to gift your significant other!