I love Halloween. Last year was the first year that Bugs was old enough to sort of get it. I was so excited to introduce the kids to our Halloween activities for families.
DISCLOSURE: This post may contain affiliate links. If you purchase items through my links I may earn a commission. You can find our full policy here. Thank you.
But I've always done a Halloween Countdown, even before we had kids. It's always been fairly family oriented too. I just love all the holidays and I want to celebrate them all month long.
But I also don't really like scary things. So my activities tend to be on the tamer side and things that can easily be done with kids.
I came up with a list of 31 activities, one that can be done everyday of Halloween. The activities have to be pretty simple. Most of the activities will take no longer than 5 minutes to set up.
I know life is super busy, especially during the holidays! My kids are young, but there's still work and school and just life. So I wanted activities we'd actually do everyday.
We don't have an hour to prep daily or to even spend on one task. And to be honest, my kids don't have that kind of attention span either!
So these are simple, fun Halloween activities for families that are perfect for any age!
Halloween Activities for Families
Here's a list of all the things we did last year. Each year I try to mix it up a little bit, but most activities stay fairly the same from year to year.
1. Halloween Sensory Activity
This Halloween sensory activity was so much fun! Perfect for kids who like to get messy.
2. Listen to Scary Songs
You can listen to Spotify's Halloween songs or purchase a Halloween CD. This activity is the best because you can do it literally anywhere! Even on the drive home.
3. Make Pizzas
Pizza is such a nostalgic Halloween meal for me. We would order pizza in every Halloween growing up before going trick or treating.
Little Miss is allergic to cheese and it takes forever for pizza to be delivered on Halloween so we make our own now. Plus, pizza is such an easy meal to have kids help make!
4. Special Treat
This is usually a sweet treat. Last year we did Monster Peeps, this year we're going Boo Oreos!
5. Go to the Pumpkin Patch
Obviously! It's not Halloween if you don't visit a pumpkin patch.
6. Halloween Stickers
I pick up a cheap pack of Halloween stickers from Target or the Dollar Tree and let the kids go wild. Last year, we put them all over our face.
7. Fly like a Bat
This was surprisingly so much fun! We ran around the backyard while flapping our arms like wings. The kids loved it most of all.
8. Space X Rocket
Obviously, this doesn't happen every year. Nor can you see it in every state. But the Space X Rocket took off last October and so I made it into a fun Halloween activity. The kids got to stay up late to see it.
This year, we might look at the stars instead, have apple cider, or maybe visit an apple orchard!
9. Pumpkin coloring pages
Either buy a coloring book, or print out some pages online.
10. Go for a Walk
We love to walk around our neighborhood to see how everyone is decorating. Then we walk downtown and stop to get cookies and ice cream!
11. Werewolf Howling contest
The kids had a blast with this one. Have everyone howl like a werewolf and then vote for their favorite howl!
12. Pick out our Halloween costumes
We always try to have our kids help pick their costumes. So we make it into a family event and we all decide on our costumes one day.
13. Monster mouths & PB&J Pumpkin
Love these super simple Halloween snacks!
14. Halloween Family Movie night
Grab some popcorn and snacks and pick out a family friendly Halloween movie. My favorite is Halloweentown or Hocus Pocus!
15. Craft Night
I love crafts, but that's probably a given. I run a DIY blog!
So of course one of our Halloween activities for families is a craft night! Whether we paint Halloween ornaments, decorate construction pumpkins, or build a haunted house, it doesn't matter.
All that matters is that we do something together as a family. I love sharing my passions with the kids.
16. Halloween Night Out
Bug loves Yogurtland. So he's always extra excited whenever we go to Yogurtland. They also usually have specialty flavors for Halloween.
We go there and then head over to Home Depot and look at all the Halloween decor.
17. Look at past Halloween pictures
I love pictures. Although that's probably apparent by the amount of photos I have in my house. My kids also love looking at pictures of themselves and of me when I was little.
I think it's fun to sit around, look at photos, and remember costumes from years past. So we look at photos and have conversations with our kids while we look through them.
18. Goulish lemonade
This is a special lemonade I made for the kids last year. Can be a little spooky, but also super fun!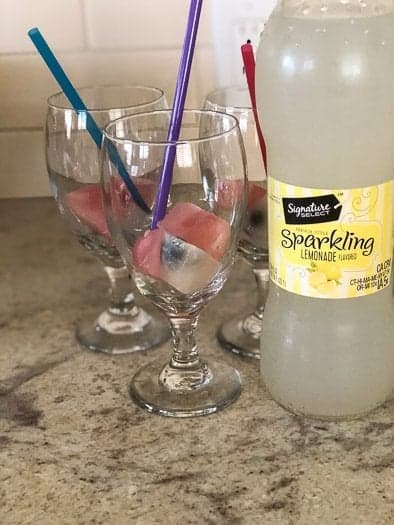 19. Making cupcakes
Cupcakes, cookies, popcorn balls. Just get in the kitchen and make something with your kids. You can add spooky cupcake liners or cookie cutters, but it's not necessary.
20. Buy Candy
Make a special trip to pick out candy for school or to pass out to trick or treaters. Or you can use this day to pick out treats for the boo boxes!
21. You've Been Booed boxes
Deliver little treats to your neighbors and friends with these you've been booed boxes!
22. Knott's Spooky Farm
We bought season passes to Knott's Berry Farm last year, so of course we had to go during Halloween. Look for fun Halloween themed carnivals nearby!
23. Candy Corn Slime
Last year, we made this taste safe candy corn slime from Crayons and Cravings. The kids loved it and I love that its taste safe and super easy to make!
24. Read Halloween Books
Again, its no secret I love books. I will find any excuse to read to my kids. We have our Halloween books out year round, but I pick a night to intentionally read through these books.
I might also pick out a new book and give it to them. Or borrow one from the library! Reading is such a great Halloween activities for families! Some of my favorite Halloween books are Spooky Pookie, Little Blue Truck's Halloween, That's Not My Bat, and Poppy and Sam's Halloween Party.
25. Send cards to St Jude Kids
Last year, St. Jude's asked for people to send Halloween cards to the kids. It doesn't look like they are doing that this year. But you can also donate candy to make organizations like St. Jude's and Ronald McDonald house.
26. Look at the Moon
Is there anything more Halloween than the moon? If it works for you pick the night of the full moon. If not, any night to look at the moon will be great!
27. Ghost Balloons
These are super cute little ghost balloons and the kids loved chasing them around the house!
28. Trick or Treating at Target
Get dressed up and go to Target's Trick or Treating Event! It's mostly just like walking through Target, but the kids can get small treats. And let's be honest, you likely need something from Target on a Saturday already.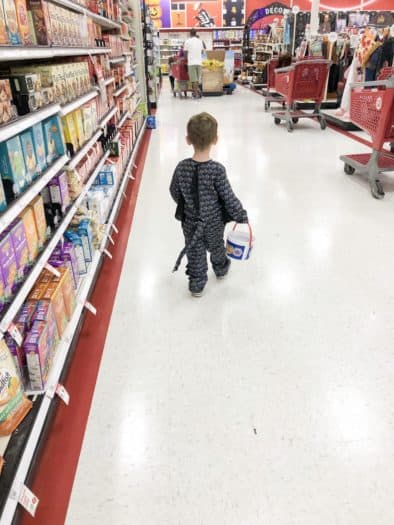 29. Pumpkin Carving
What is Halloween without pumpkin carving?!
My kids are still a little too young for pumpkin carving, so instead we just cut open the top of the pumpkin and let them see what was inside. This lead to lots of touching and talking about the seeds.
We also painted pumpkins to put on the front porch. I like to put their handprints on the pumpkins every year and let them paint in whatever colors they want.
I save the pumpkins until Thanksgiving and then use them as centerpieces!
30. Roast Pumpkin Seeds
Save all those seeds from carving and roast them! They'll make a nice treat.
31. Trick or Treating
Of course, you have to get dressed up and do some trick or treating!
My favorite activity, besides the trick or treating was probably the boo boxes. But we had so much fun counting down to Halloween!
Do you do a countdown? If so, what is your favorite activity?