This DIY fabric wall hanging is the easiest project! I wanted something big and safe to hang above our stair landing. It needed to be something that wouldn't break if it got hit as the kids go up and down the stairs.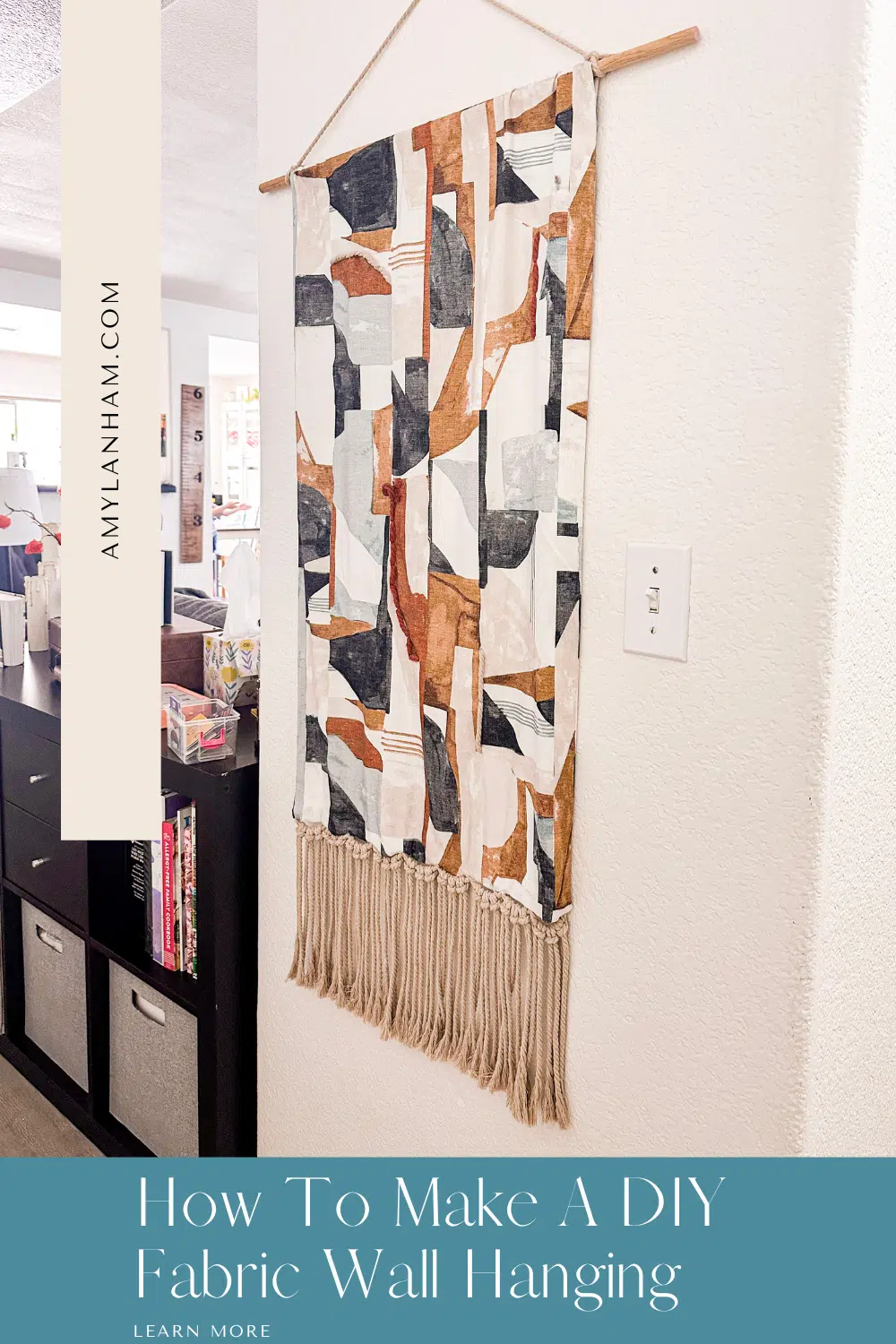 DISCLOSURE: This post may contain affiliate links. If you purchase items through my links I may earn a commission. You can find our full policy here. Thank you.
The big white wall bothered me on the stairs and I knew I needed something big. But my kids are always rough housing and the last thing I need is something dangerous on the stairs!
At one point, I threw a blanket over the top railing to help it dry and had this vision of a cute wall hanging right there. So I headed to Joanne's to look at their fabric.
Want more ideas like this? Subscribe today and get access to our VIP library with tons of free printables and our monthly newsletter full of DIY ideas.
How To Make a DIY Fabric Wall Hanging
I found this funky boho fabric from Joann that matches some of the colors I'm bringing into the house. It was perfect.
What You Need:
Here's what you'll need from the store.
Tools Needed:
Scissors
Punch Needle or Regular Needle
Hot Glue Gun
Supplies Needed:
Fabric
Wooden Dowel
Macrame Cord
Tips for Creating DIY Fabric Wall Hanging
How to Create Hanging Tassels
The fabric hanging needed some hanging tassels to give it something extra. I chose the white macrame cord for the tassels.
To attach the macrame cord onto the fabric, I used a punch needle. It came in a kit I had bought and thought it would be easiest to use that.
But the macrame cord was too thick to go through the punch needle. So instead, I used the punch needle to punch the hole and then wire to pull the macrame cord through.
If you do not have a punch needle, a regular needle could work, or scissors to create a hole and then put the cording through.
I wanted it to look like stitching, so I didn't pull the cord all the way through. Just made a loop on the back and then continued on.
I made a straight line across the bottom using this method. This gave me something to attach the tassels on to.
Then I folded my macrame cord in half, pulled the loop under the cording I had attached to the fabric, put the loose ends through the loop and then pulled tight to create a knot.
I secured the macrame cord in the back with hot glue to make sure it couldn't be pulled out the front.
Do I have to Sew the Raw Edges
Absolutely not! If it's a small project like this that won't get a lot of wear and tear, I hardly ever sew them.
I used hot glue to create a hem. Fabric glue can also be used.
How Big Should my Fabric be?
This is going to depend on where you put it. I didn't measure my fabric, instead I put the fabric up to the wall and got a general idea of what size I wanted it to be. I knew I wanted it to fill up a good amount of the wall.
So I put my fabric up on the wall, got an idea of how I wanted it to look, and then cut my fabric to size.
Yield: 1
DIY Fabric Wall Hanging
This DIY fabric wall hanging is the easiest project! Perfect for a blank wall, an easy way to add interest and art.
Materials
1.5-2 yards fabric
Macrame Cording
1 inch Wooden Dowel
Tools
Scissors
Hot Glue Gun
Punch Needle or Regular Needle
Instructions
Lay out the fabric and cut it to the size you want.
Add on the macrame fabric tassels.
Create macrame stitching on the fabric if wanted.
Use hot glue to hem the edges so that the fabric doesn't unravel. Also hot glue the macrame stitching in the back to make sure it doesn't fall out.
Cut a dowel to be 2 inches larger on each side then the width of your fabric.
At the top of the fabric place the dowel and hot glue the fabric around the dowel. Then tie the macrame cord to the fabric to create a hanger.
Love the ideas you see here on AmyLanham.com? Subscribe today and get access to our VIP library with tons of free printables and our monthly newsletter full of DIY ideas.
What's Next?
Here are some other great decor ideas that you might like: