Indoor plants are all the rage right now. I have been slowly expanding my indoor plant collection. Instead of buying an expensive pot I learned how to make a plant pot out of yarn.
DISCLOSURE: This post may contain affiliate links. If you purchase items through my links I may earn a commission. You can find our full policy here. Thank you.
Plants can be so expensive. Not to mention then to buy the cute pot to put it in!
I really wanted a woven fabric basket, but they were all $20 and up. And none of them were in the color that I wanted.
Not wanting to buy an expensive pot, and not wanting to settle for something I didn't love, I decided to make one myself!
I'd already made one out of fabric. So I figured I'd try my hand at making one out of yarn next. It really was a super easy project, although a little time consuming.
How to Make a Plant Pot
The great thing about this project is you can customize it to fit any size pot and use any color yarn you like! I made this pot to fit my fiddle leaf fig and used the plant's grow pot to make sure the pot I was making would be big enough.
To start my pot, as used cardboard for the base. Then, I used some thick twine I had to make the bottom half of the pot. If you have enough twine, you could skip the cardboard and just make the base from twine.
I really wanted the pot to be two-toned. My whole living room has green accents and I just happen to have this really pretty green yarn just laying around so I decided to use that.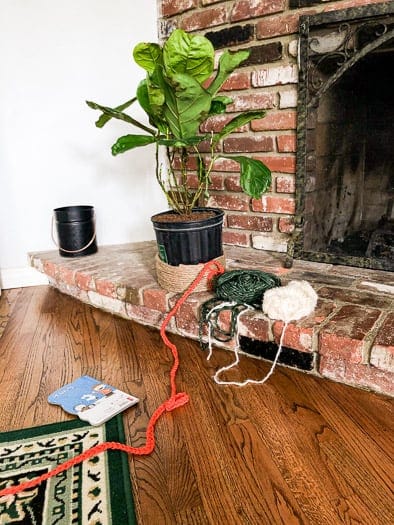 To make the yarn a little thicker, first I created a braid, then I did a half square knot over the braid. In retrospect, I wish I would've had more twine. I would've done the half square knot over the twine.
This would have made the yarn part thicker and been less time consuming. But I wanted to work with what I already had on hand.
Overall, I love the way the pot turned out. It's sturdy and fits the plant grow pot nicely. I also made one out of fabric and some hanging macrame plant pots.
Make sure to sign up for the VIP library to get emails about more great projects like this one!
Yield: 1
How to Make a Plant Pot
How to make a plant pot out of yarn and twine.
Instructions
Take the grow pot for the plant you want to use and lay it out on cardboard. Trace an inch or two away from the grow pot on cardboard. This will ensure your finished pot will be big enough to fit the grow pot. Cut out cardboard.
Now hot glue your twine around the edge of the cardboard circle. Continue hot gluing your twine around in a circle on top of itself until you are 1/2 to a 2/3 of the height of your grow pot.
Now take your yarn and make a half square knot around itself, twine or a braided strand of yarn. I did it around a braided strand of yarn since I didn't have enough twine.
Then glue the yarn to the top of the twine around in a circle until you reach the top height of your grow pot.
FAQs
Can I keep my plant in the grow pot?
Of course! It's actually recommended to keep your plant in the grow pot for a little while until it gets acclimated until it's new home.
When should I repot my plant from the original grow pot?
You don't need to repot your plant until it starts to get root bound.
How to tell if my plant is root bound?
If there are lots of roots sticking out from below the grow pot, the grow pot feels really stiff, or there are lots of roots around the surface.