Today is my sweet puppy's third birthday. Ok, so I know that she's not technically a puppy anymore and that its not technically her "birth" day, but oh well. My husband found her on this day three years ago outside his work and I know it sounds cliche, but she has changed our lives. She was only two weeks old, her eyes and ears were still closed, and she had no teeth. We obviously instantly fell in love with her. She was pretty tough to take care of for the first two months, and we've been through a lot with her since then. Because of how much we love her, I always try to do something special for her birthday.
For her first birthday, we got her a big bone cookie and got my parents dogs little cookies as well so they could have a party (again I'm so a crazy dog lady..). And last year we took her down to dog beach and then got her a bully stick. But this year its her third birthday and she's 21 in dog years! Obviously, you can't get dogs alcohol, but I still wanted to do something extra special for her.
I've been getting inquires and booking cake smashes for one year olds, and thought I want one for Sydney! So, I decided to set up a puppy cake smash. I got her a pupcake from Sprinkles Cupcakes in Westlake Village. They were the mini cupcakes, and so I made the rest of the cake, just for photos, and covered it with peanut butter. I also made the little banner for the top of the cake just with my printer and than I made the background banner with scrapbook paper.
Before, I released the beast on the cake, I had to get pictures of the cake all by itself, since it looked so cute.
Then I had to get pictures of the birthday girl all by herself. I probably took way too many pictures of just her.
Then it was finally time to take pictures with her and the cake (which was her favorite part I'm sure)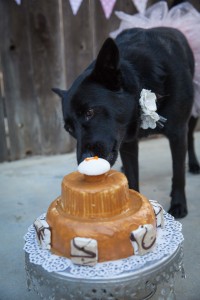 Because I didn't want her to eat that much peanut butter, we took the cake away and then just gave her the pupcake.
And here's the aftermath!
Overall, this shoot was so much fun! I would definitely love to do another puppy cake smash or any type of dog photoshoot! They are so much fun to work with and just adorable. Be sure to be on the look out for my recent one year old cake smash sessions too. If you are interested in having me shoot your dog or other loved one please visit my contact page.