It's almost impossible to predict how a Cake Smash session will go. By nature, these shoots are largely led by your child. They will dictate how the shoot will go. We can obviously redirect their attention but know that since this is a session focused solely on one child (normally), that it is going to be a lot different than a regular session. This is what you should expect going into a Cake Smash.
What to Expect: Cake Smash
The "Cake Smash" Portion Will Be Short
The actual smashing of the cake will only last about 10-15 minutes. The rest of the session in the "before" pictures. These are beauty shots of the child by themselves all dressed up and just being cute. I will also take pictures of your child with the cake before we allow them to start smashing.
Your Child Might Not Like It
You can never anticipate what your child will want. Even if your child normally loves cake, there is a chance that on the day of the shoot they just won't be excited about it. I've had this happen before. I recommend bringing a backup toy so that we can get some pictures of them playing in addition to the pretty shots.
Your Child Will Get Dirty
Now I just said you can never anticipate what will happen. But most children get dirty. Even if they don't love the cake. I do most of my cake smash shoots outside, so expect your child to be in the dirt or grass. They will probably still get plenty dirty during the shoot. I recommend bringing towels.
Your Child Will Dictate the Shoot
And that's ok. I really recommend just rolling with whatever they do. If they just want to walk around the park or play with leaves and plants, that's fine! I'd rather follow around a happy baby and get great pictures, then frustrate a child trying to force them to do what they don't want. Kids want to go, so we'll let them go and explore and I'll capture whatever they decide to do!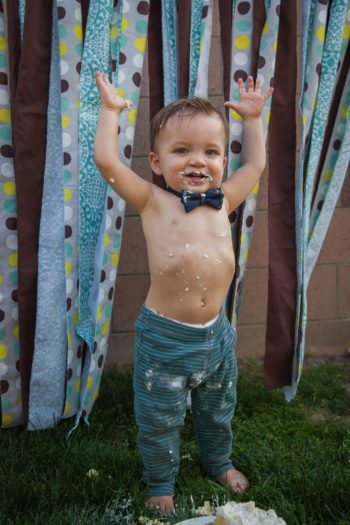 I hope this gives you a little bit of a better idea of how your Cake Smash session will go! If you ever have any questions, feel free to contact me.