A couple years ago our family dog, Mollie, passed away. The whole family was pretty shook up. My sister was devastated and so I decided to make her a pet memorial jewelry, DIY necklace.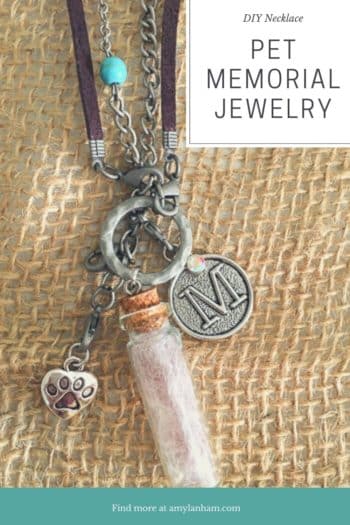 DISCLOSURE: This post may contain affiliate links. If you purchase items through my links I may earn a commission. You can find our full policy here. Thank you.
My sister had wanted to save Mollie's ashes, but the vet ended up talking her out of it. She wanted something to remember her by and after thinking long and hard, I figured a necklace would be the perfect rememberance.
It's super hard to lose a pet. I think it's only natural to want to have some physical representation of your grief and something to remind you of your pet.
My sister needed something like that. And I wanted to provide that for her to be able to help her cope.
I secretly took some hair off of Mollie's bedding and then headed to Michaels to get some supplies.
Pet Memorial Jewelry – DIY Necklace
You don't need a lot of supplies to make this necklace. I purchased a cord necklace from Michaels, jump rings, some charms, and a vial.
You can change this up however you like and buy supplies that reflect your personal style. There are so many different charms and necklace options.
I picked something that was fairly simple. My sister doesn't wear a lot of jewelry, and I didn't really think that she'd wear this all the time. This is mostly for a keepsake necklace.
I decided on a letter initial charm and a dog paw charm. The necklace I picked had some turquoise accents and brown suede.
I love that the necklace looks sophisticated and you'd never know what it was unless someone explained it to you.
Yield: 1
Pet Memorial Jewelry - DIY Necklace
DIY pet memorial necklace. Make this to remember a pet who has passed away and keep a small part of them with you always.
Materials
Instructions
Take your dog hair and place it into the vial
Use super glue the cork onto the the top of the vial
Use jump rings and/or lobster clasps to attach your vial and charms to the necklace.
If you're into making homemade gifts, be sure to check out these other homemade gifts: open when letters, gifts kids can make, and gifts for neighbors.