My best friend is getting married!! I'm so excited to be her maid of honor and want to make the day extra special. My mom helped me to create this extensive wedding day emergency kit.
DISCLOSURE: This post may contain affiliate links. If you purchase items through my links I may earn a commission. You can find our full policy here. Thank you.
This kit has pretty much everything she may need. Hopefully nothing at all goes wrong. But you can never be too sure. This wedding day emergency kit ensure that no matter what happens, she'll have the tools she needs!
The hotel is about an hour away. I know from experience that you can never think of everything. Thankfully our wedding was at our house, so we had everything that we needed on hand.
I know it's crazy planning a wedding and things just get forgotten! So this wedding emergency kit fills in the holes.
Wedding Day Emergency Kit
This kit is pretty extensive. You can find the full list of what I put in below.
The first thing you need, is a cute bag to put all the supplies in. We went to Rose and found this adorable ocean themed travel bag. It's big enough to fit everything and I love that it has multiple see through pockets.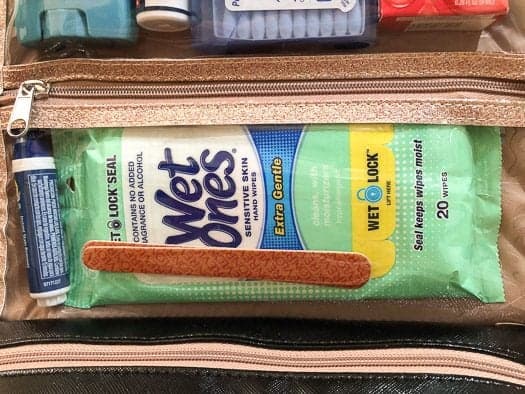 She had a hair and make up artist so I didn't think there would be any wedding day disasters in that area. But I included q-tips, hair ties, and bobby pins anyway.
There's always the chance for a broken nail or a hang nail. While that's not totally an emergency, they can be super annoying. So I included nail clippers and a nail file.
No one wants to be caught on their wedding day with a headache! So make sure to include a pain reliever. If anyone in the wedding party has a pain they will definitely thank you for thinking ahead!
I also included a small first aid kit. It has a bug bite antiseptic in it as well. This ensures that any little cuts, scrapes, or bits will not cause any problems.
There's also no chance of bad breath with this kit! Toothbrush, toothpaste, mouthwash, gum, and mints are all present in this kit. I figured this could also double as a honeymoon emergency kit too!
My mom also had the genius idea to include a stain removing stick in this kit! So smart!! The bride definitely used it, too. I can't remember who needed it, I think one of the bridesmaids.
I gave her this whole kit the night before her wedding at the rehearsal dinner. My mom also included a cute note.
The bride loved it! I mean who wouldn't!
Yield: 1
Wedding Day Disaster Kit
A wedding day emergency kit filled with everything a bride, and her wedding party, might need on the wedding day!
Materials
Cute travel make up bag
Q-tips
Gum
Mints
Eye drops
All purpose wipes
Chapstick
Safety pins
Bobby pins
Hair ties
Nail clippers
Nail file
Deodorant
Pain reliever
Tweezers
Tissues
Makeup wipes
Toothbrush
Toothpaste
Mouthwash
Small first aid kit
Stain remover pen
Instructions
First get your cute bag and then
stuff it with all of the supplies!