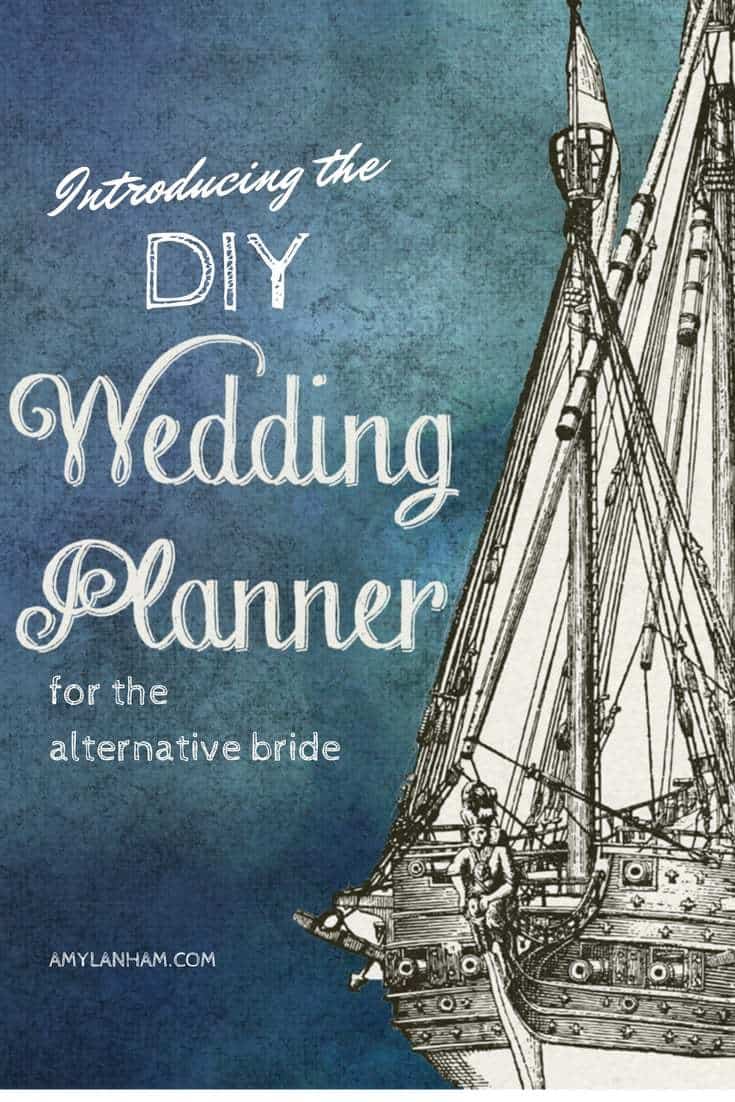 My best friend Sarah is getting married! She was the Maid of Honor at my wedding almost 7 years ago. I can't believe it has been that long! She's feeling a little overwhelmed with the wedding planning, so I decided to create her a DIY wedding binder. This binder is so important to the wedding planning process, especially if you are not having a wedding planner. You should really splurge and create a really good wedding binder.
DISCLOSURE: This post contains affiliate links. If you purchase items through my links I may earn a commission. You will not pay more when buying a product through my link and you do not have to use my links. I only recommend products & systems that I use and love myself, so I know you'll be in good hands. You can find our full policy here. Thank you in advance for your support.
This is my wedding binder from 7 years ago. As you can see it's super simple. But I still have it. It's amazing how frequently we have used this. My mom has kept it and showed it to friends when they get engaged and to price match things or just to look back on memories.
It's amazing how much we've used it since the wedding, but during the wedding, this binder was wedding planner central. This DIY wedding binder went everywhere with us. From Marshalls and Home Goods to dress fittings and numerous wedding stores and rental places. Had I known then how much I would be using this DIY wedding binder during the wedding planning process and after, I would have made it much nicer.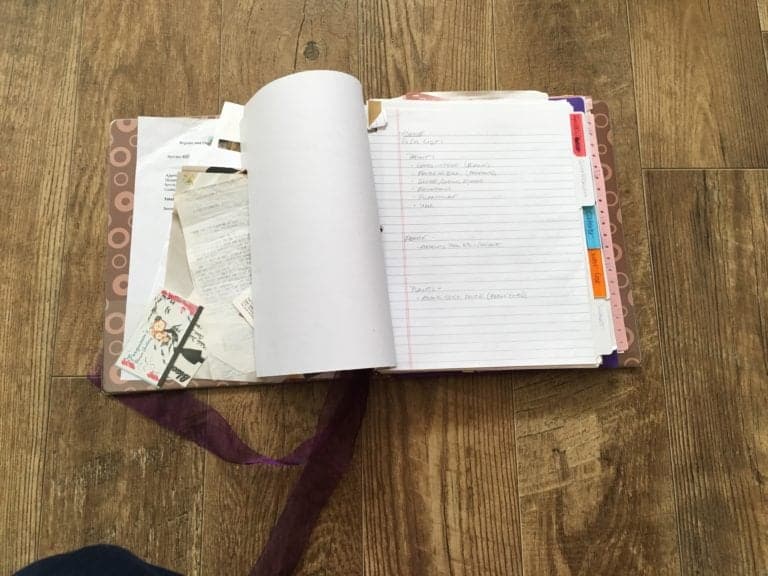 DIY Wedding Binder
So for my friend Sarah, I decided to create her something that would be fun to carry around during the planning process and something that was uniquely her. My original plan was to find something premade and just print it out. But everything I looked at was light blues or pinks and that's just not Sarah.
I don't think that's a lot of girls. Sure some of us like pink, but there's other colors! I wanted her to feel joy when she looked at this. Wedding planning can be such a stressful process, so anything that you can help you feel happy and excited is definitely important.
As I was creating this and doing research, I looked over multiple wedding countdowns and I have to admit I started to feel a little anxious. My mind went back to those months before the wedding as I was planning and a little lost and unsure if everything was going to come together. But that's why we create the binder. It's easy to feel anxious when you're looking at this big long to-do list.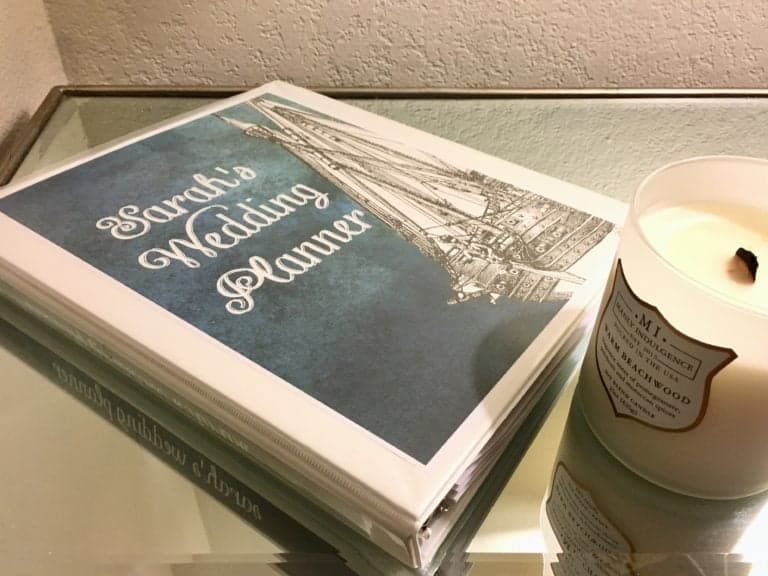 We have to break it down into bite-sized pieces so that the stress and overwhelm don't get to us. When she looks at her wedding planner I want her to feel joy and happiness and excitement! Because this is a super exciting time. So hopefully by making something that she will enjoy looking at and something that's very organized, that dread and overwhelming fear will be lessened.
You can find these downloads in our shop. It comes with the front cover, binding cover, and back cover. It also comes with cover pages for the inside, for each of your tabs. As well as some planning printables. So let's get on to how to create your own DIY Wedding Binder
Supplies
Printer and Paper
Glue
Binder – 1 inch
Fancy/Fun Pen
Start with your printouts. Once you have purchased the downloads from our shop, download them and print them out.
You'll want to 3-hole punch everything except for your front and back cover and binding. If you can get the inside cover sheets 3-holes to align with the Avery divider tabs, that would be ideal. Otherwise, if you're 3-hole punch challenged like I am, cut a thin strip off before gluing down the cover sheets over the Avery dividers.
Write on your tabs the corresponding name that is on the cover sheet.
Assemble the binder.
That's it!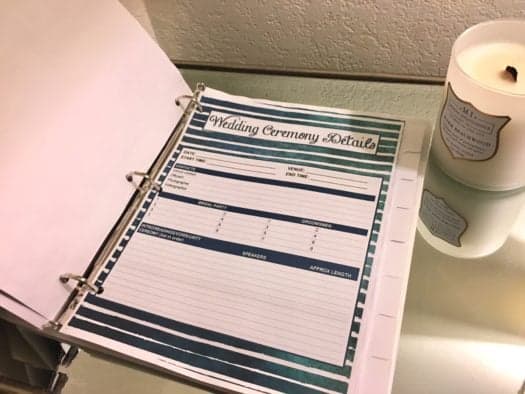 It's that simple. Now all you have to do is take it everywhere with you. Add all your important information. Any important vendor information, important dates, contact information.
As you figure things out like the centerpieces or your bridesmaid's dresses or whatever it may be, add pictures. This binder can also serve as a guide for your point person on the day of your wedding. That way you're not having to put out any fires or answer questions, someone else has access to your 'wedding brain'.
I also recommend adding some ribbon or paper in your colors. This will make it much easier to color match as you go to all the different vendors because everyone has different names for the same colors.
I hope you enjoyed this DIY wedding binder walk through and that you create one of your own. I'd love to hear how you used your wedding binder if you did create one. Leave a comment below and let me know!