DIY mud kitchen are all the rage! They are so wonderful because they get our kids outside using their imagination in nature.
DISCLOSURE: This post may contain affiliate links. If you purchase items through my links I may earn a commission. You can find our full policy here. Thank you.
What is one of your favorite memories as a kid? I'm sure in some way, shape, or form it involves the outdoors.
Most kids love being outside and playing in nature. They want to get dirty and explore.
That's exactly what a mud kitchen is designed to do. The best part is you as the parent get to take a back seat and watch the play and learning happen.
DIY Mud Kitchen
So you want to make a DIY mud kitchen. I think first we need to get some questions out of the way.
What is a kids mud kitchen?
A kids mud kitchen is exactly what it sounds like. It's an outdoor kitchen where kids can play in the mug.
It doesn't have to be a full kitchen area, it can be a couple tools and bins. Or you could use a plastic play kitchen. You can even build one out of wood!
What is the purpose?
The purpose of a mud kitchen is to allow kids to use their imaginations and play outdoors!
What age are mud kitchens for?
Mud kitchens are great for all ages! My kids are 4 and 2, we've been playing with our DIY mud kitchen for 2 years.
But even as an adult it's sometimes fun to play in the mud. I have no doubt that my kids will enjoy playing with this for years and years.
How do you make the mud?
Making the mud is so easy! Basically, just take some dirt from your backyard and mix it with water! That's it.
If you don't have dirt in your backyard, or you want something 'cleaner', you could use play sand.
How to make It
Making the play kitchen is so easy! Your kids don't need anything fancy.
I went to the dollar store and picked up all of my supplies. You can spend as much or as little as you want.
First, you'll want a storage box of some type. You can use smaller ones or larger ones. I had small ones at the time, but I really love the under the bed boxes as you can have multiple people playing in each box.
These storage boxes will be where you mix the initial mud and can house all the supplies for your kids to play with.
Now we need all the supplies! You'll need an assortment of kitchen utensils. Plastic ones work best for cleaning.
My kids especially love the whisks and tongs. Make sure you have multiples of each utensil. This is why I bought everything at the dollar store.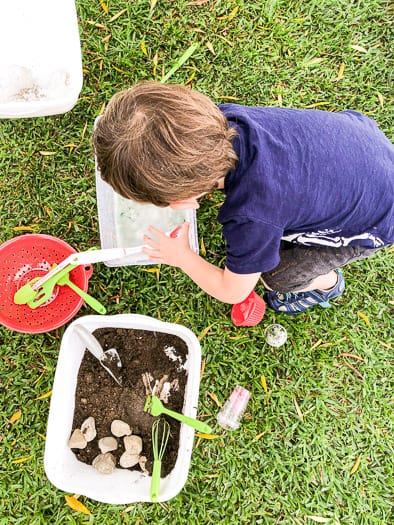 Other good utensils are measuring spoons and cups for scooping and pouring. The kids will need some plates and a couple bowls too. For mixing and serving.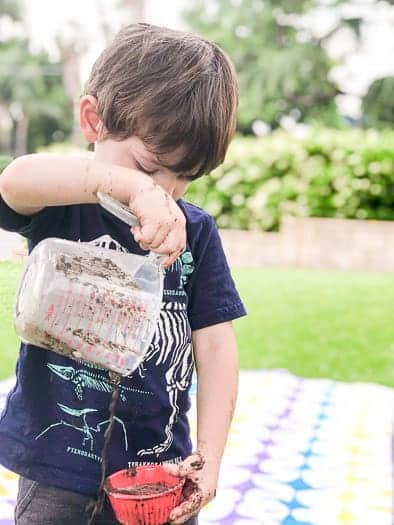 Basically, you'll want to stock it like you would normal kitchen! That way your kids can act like they are in a real kitchen.
Once you have all the 'kitchen supplies', you can start stocking your kitchen with some fun things!
I picked some flowers and sticks and put them in little containers for the kids to use to add to their creations.
My son also really loved playing with the salt and pepper shakers and shaking mud everywhere!
Clean Up
It was a really fun set up and was so easy to clean up and store for later use. I just gave the kids some soap and sponges and they basically cleaned it all up for me!
You actually don't even really need to clean every time you use it. Only if you're going to be storing it away for a long time.
I hope that you give this a shot and let me know how your DIY mud kitchen goes!