This is the easiest way to makeover dresser! Keep reading to learn how to spray paint handles.
When building our DIY TV stand from a dresser, I knew I wanted to reuse the handles. Mostly because I just didn't want to spend a lot of money.
Also, there was nothing wrong with the drawer handles, and they were really cute. I had some gold spray paint in the garage and I decided to make over the handles.
I love being able to keep the original whenever possible, but that doesn't mean that I don't love a good makeover. This allowed me to makeover the dresser while still keeping the cost down.
The dresser was already so cute as is. I found this dresser about five years ago at a yard sale. It really is such a nice dresser.
How to Spray Paint Handles
We always have extra spray paint in the garage and so I didn't have to buy anything for this quick makeover.
All you need is your handles, spray paint, and a box. Also, do as I say and not as I do. You should probably wear gloves!
I figure a box is easiest enough to find! Tell me you don't have an Amazon box sitting in your garage! If you follow me on Instagram then you know my garage is usually littered with boxes.
Make some holes in the box and stick your handles into the box. Make sure they are secure. You can even screw them in so they are very secure.
Then hold your box upside down and spray paint your handles. By spray painting while their upside down it ensures that you can get all sides of the handle at once.
This is especially important when you have a handle that hangs down like these ones. Then just let the paint dry and reattach!
So easy!
How to Spray Paint Handles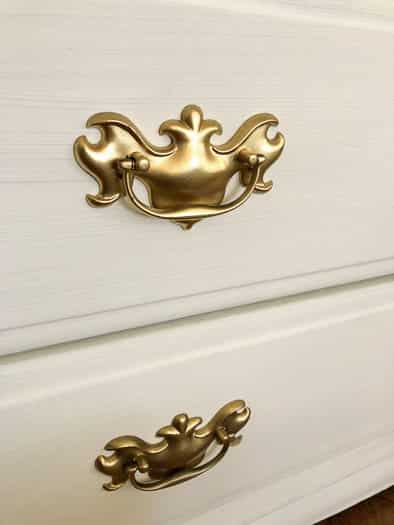 How to easily spray paint drawer handles for a quick makeover.
Instructions
Poke holes in your box.
Attach drawer handles to the box, making sure they are secure.
Hold box upside down, or place somewhere where the handles can hang down. Spray paint the handles.
Let them lay aside to dry.