Back in the days when I was pregnant, I knew I was embarking on a journey that would be filled with stuff. Children have a way of collecting things and there is a lot of stuff that they need. Like lots and lots of stuff! But I didn't quite realize that the biggest struggle with stuff for an infant is bottles. I expected the toys and my living room to be littered with them and to constantly be picking them up. But I didn't expect my countertops to be cluttered with bottles constantly. If you're anything like me, at the end of everyday your counters probably look something like this:
Then, where do all these bottles go? They mostly just sit on the counter waiting to be used again. I really needed some bottle storage solutions. Sigh. So I set out trying to find the best ways to contain this clutter and this is what I've found!
This post contains affiliate links. If you purchase from one of these links, I will receive a portion of the sale. You do not pay anymore from purchasing from one of these links. Thank you for your support.
Bottle Storage Solutions
1. Drying Rack
This was one of our registry gifts and I had such high hopes for it! While I do love this drying rack, it alone will not be your bottle storage solutions that you dreamt of. It still has a place and is great if you only have a couple of bottles, but if you're like me and have 10 or more than this won't be enough. It still sits out on the counter and everything falls off easily, but I still love it.
2. Dishwasher Basket
We came across this dishwasher basket at Target and expected it to be the answer to our prayers! And it was for a little while. You can let the nipples dry in this or you can take them out and put them on your drying rack. Honestly, you could even keep them in here until you need them. Again, this is great if you only have a few, but you can't have too many.
3. Sterilizer
I'm not sure if this falls under "storage solution", but this sterilizer is one of the products that really helped us get our bottle problem under control. Our dishwasher doesn't do a great job 100% of the time, and I started to worry if there was leftover food in the bottles. So we bought this one from Amazon and it just reassures my mind. Plus, this container can hold 4 bottles and 4 nipples, so I can throw them in here after the dishwasher and just shove it in the microwave!
4. Pretty Containers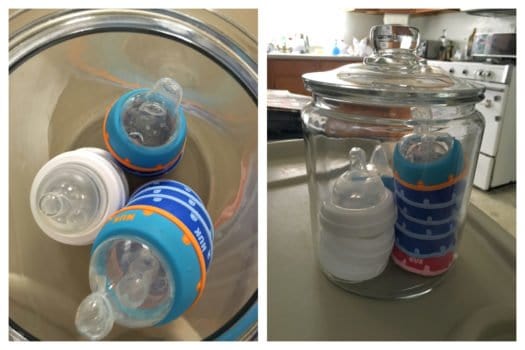 I've seen this done with pacifiers and thought "aww that's so cute!" But we never have more than 4 pacifiers out at a time, since they're expensive and you're supposed to frequently replace them. The extras mostly sit in the diaper bag, since we normally need to replace them when we are out. But I started thinking this would be perfect for bottle nipples! They fall over when stacked since they don't have support. But with this, they no longer fall over, and you can easily get what you are looking for.

5. Plastic Wine Glass
When Bugs started eating solid food, I had to come up with somewhere to put all his utensils. I didn't want them cluttering up our regular utensil drawer; there just wasn't a good spot for them in there. I grabbed the first thing I saw, which was plastic wine glasses, and threw them in there. At least they look kinda cute!
6. Ikea Rolling Cart
This is by far the best piece that I have found. If you've spent any amount of time on Pinterest, you know that everyone loves this cart. It's used in every room of the house. Originally, I tried to use a bookshelf, that just didn't have another use. But I wanted something that rolled because the cart is set up in front of a pull-out door that gets into our air conditioner. I didn't want to have to remove the whole bookshelf when we needed to change the filters. This cart is the perfect size. It fits the drying rack, the pretty container for nipples, all his bottles, sippy cups, cereal, and I have some room on the bottle for bottles of formula.
All these things work together to ensure that my kitchen remains as clutter free as possible! I hope that you found this post useful and that you are able to take some of these bottle storage solutions and implement them into your own house!
If you're looking for even more bottle and sippy cup storage solutions be sure to check out Moms Love Best clutter busting tips!
Hopefully, soon your countertops will be as happy and clutter free as mine now are!