Have you played the Saran Wrap Ball Christmas game yet? It's seriously one of the best Christmas games!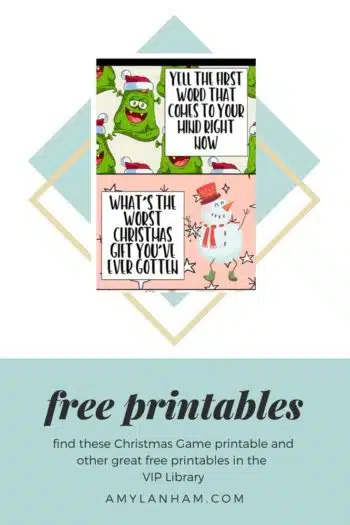 We wanted to add a special little twist to the game so that we wouldn't have to buy as many prizes for the ball. I decided to make little print outs with questions and actions.
If you've never played the game before, be sure to check out how to play the saran wrap Christmas game!
Saran Wrap Ball Game Printables
This added an extra fun aspect to the game and kept it interesting. This is definitely not something that is needed for the game, just something that was fun and added some spice to the game.
If you're looking to add a little fun to your Christmas celebration, try this game and these printables!
You can find these saran ball game printables, and other free printables in our VIP library. Join our VIP list below to receive access to all our freebies.

If you use these or other printables I'd love to see pictures! You can shoot me an email or tag me on Instagram.