Do you like to play card games? What do you do with a card deck once you lose cards? Don't throw it away! Make some of these super cute playing card ornaments.
DISCLOSURE: This post may contain affiliate links. If you purchase items through my links I may earn a commission. You can find our full policy here. Thank you.
My friend had a few packs of playing cards that weren't complete and mentioned he would be throwing them away. I asked if I could have them instead.
I'm always hoarding supplies for some fun DIYs. I thought I might use them in the future in the trailer or somewhere else. Maybe some play card wallpaper is in my future.
Want more ideas like this? Subscribe today and get access to our VIP library with tons of free printables and our monthly newsletter full of DIY ideas.
But in the meantime, tis the season for all things Christmas decor. So I thought I would make some playing card ornaments.
Playing Card Ornaments
These were pretty simple to make. I saw an ornament on Pinterest a while back and was inspired to make this ornament. My playing cards are blue, so I only used the card face.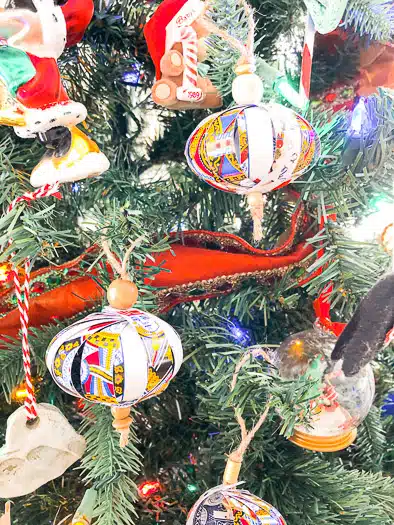 But if you have red playing cards, or like the blue, you could use the back of the card too.
First, I separated all the cards into red and black cards and then into number cards and face cards. I like the way the face cards look best, but again you can do this any way you like.
I cut the cards into approximately half inch strips and used 16 strips per ornament. Once they're all cut, use a hole punch to punch a whole in the top and bottom of the strip.
I had some wood beads lying around, but again any bead will do. You probably don't even have to use beads, but I think it looks nice.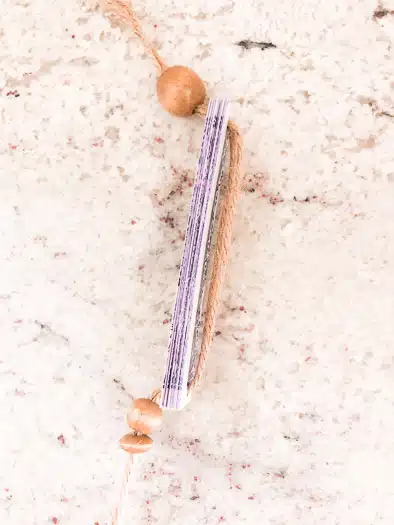 I threaded the cards onto some twine, but beads at the top and bottom, then smooshes the cards together and fanned them out. Secure the top and bottom with a knot and you're done!
If you fold the twine in half before you start you have a loop already made too! Such an easy ornament that would make such a cute gift for your favorite friend to play games with.
Yield: 1
Playing Card Ornaments
How to make unique playing card ornaments perfect for gift giving!
Materials
Playing Cards
Twine
Beads
Instructions
Cut your cards into 1/2 inch strips. You can get about 4 strips per card. You'll need 16 strips in total.
Punch a hole in the top and bottom of your strips.
Fold your string in half, thread on the beads you want to be the bottom of the ornament
Thread one side of the strips onto the string then thread the other side of strips onto the string. The last strip on is the first strip the gets put on.
Add your top bead and push all the strips together, then fan them out so they make a circle.
You can play with the shape of your ornament by adjusting the top and bottom beads.
To finish the ornament off, knot the top and the bottom to secure the beads in place.
Trim off the excess thread at the bottom of the ornament.
Love the ideas you see here on AmyLanham.com? Subscribe today and get access to our VIP library with tons of free printables and our monthly newsletter full of DIY ideas.
Other Crafts
If you like these ornaments, check out these other Christmas ornaments: