Is there anything cuter than little handprints? I don't know why but little handprints just make me so happy! And these little painted handprint flower pot craft are the perfect thing to preserve those little handprints forever!
I love making personalized gifts for our family. Seriously, it's one of my favorite things.
I've given out mistletoe prints, handmade bookmarks, and open when letters. It's always a thrill to come up with the perfect gift that everyone will love.
I like to give useful gifts. These painted flower pots are so easy to make and everyone loves them. You can either plant flowers in them or use fake flowers.
I opted for fake flowers because I didn't want to risk ruining them with water and dirt. I didn't seal mine, but I'm sure you could for a little extra protection.
Handprint Flower Pot
DISCLOSURE: This post may contain affiliate links. If you purchase items through my links I may earn a commission. You can find our full policy here. Thank you.
I just bought little flower pots from Home Depot and then gave some paint to my kids. I had them paint the flower however they wanted and then painted their hand to put a handprint on it.
I left the clay pots as is, because I like the natural color. But you could definitely paint them a solid color first. Spray paint would be best for even coverage.
I let the kids paint with kids paint, and I should have had them use acrylic paint. The kids paint washes off with water, so if you actually plant real flowers you'll have to be really careful to not wash off the paint.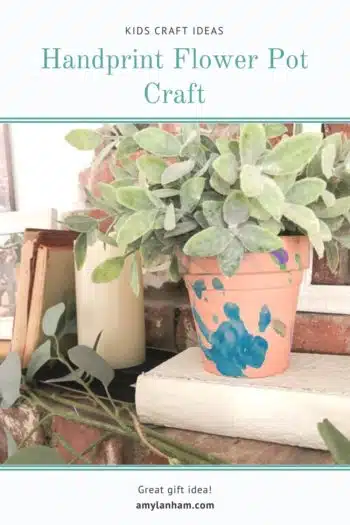 I would imagine you can use a spray polyurethane to seal the flower pot. I've used it on some other projects and it works great!
Such a simple project, but also so adorable as decor in the house! Every time I see this flower pot handprint gift in the house I smile. I love gifts that give joy year round!
If you're looking for other plant pots be sure to check out this DIY pot made from yarn, this pot made from fabric, and these hanging macrame planters.
Yield: 1
Handprint Flower Pot Craft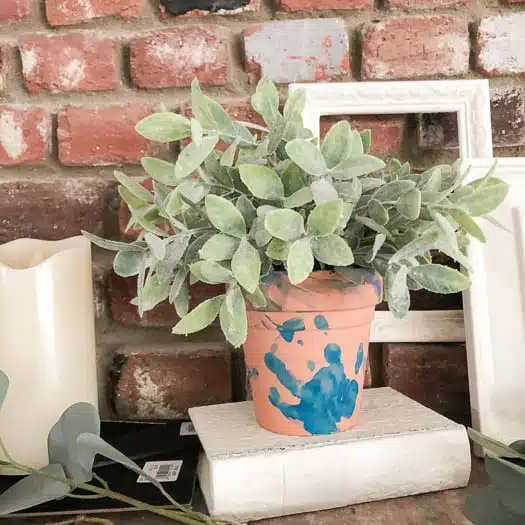 Cute and easy handprint flower pot craft perfect for giving to grandmothers, grandfathers, uncles, aunts, moms, and dads!
Materials
Tools
Instructions
Have your kids paint the pots however they want.
Paint your kids hand and put a handprint on the side of the pot.
Let the paint dry.
If using a real plant, use polyurethane to seal the pot. Otherwise, put a fake plant in the pot.