These DIY garden stakes are sustainable and made from recycled materials. They are perfect for labeling the plants in your garden!
DISCLOSURE: This post may contain affiliate links. If you purchase items through my links I may earn a commission. You can find our full policy here. Thank you.
Do you ever plant seeds in your garden and then forget what you planted where? I do that all the time! I can never remember what I planted where.
At first, I thought I would remember where I planted what. But I have no idea why I thought that. We plant so many things and I really need some labels to remember what is where!
But I couldn't decide how I should label my plants. I've been looking for a sustainable option that wouldn't require me to spend a lot of money.
Most of the things I have seen are made of wood. But, I didn't want to use wood because I didn't want it to warp as it soaked up moisture from the soil.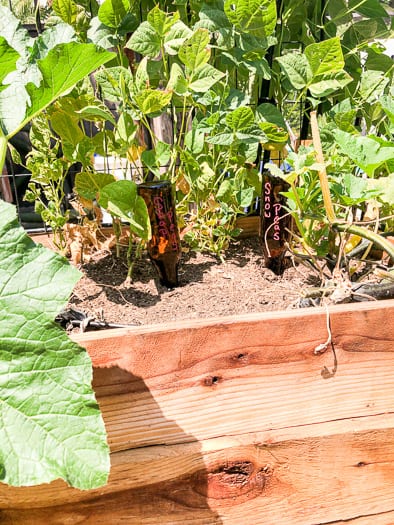 I thought about using rocks, because we have so many rocks in our backyard and it would be fun to paint them with the kids. That didn't work because I really wanted something that would stick up out of the ground, so that it would be easy to find once the plants start coming in.
So finally, I decided on using beer bottles. I didn't have to buy anything to create this, the glass wouldn't soak up water, and it kept some bottles out of the landfill!
DIY Garden Stakes
This is the easiest DIY. First, drink some beer. Haha no seriously. We need the empty beer bottles.
I then put the bottles through the dishwasher to make sure they were good and clean. The dishwasher did nothing to remove the labels though.
Removing the labels is really the hardest part of this whole DIY. Soak all the bottles in warm soapy water.
I put them on the stove and warmed up the water a little bit. Just make sure it doesn't boil too long. Let it cool then take the bottles out.
I peeled the labels off. Then took a steel scrubby and some soap and scrubbed them off. I spent about two minutes cleaning off each bottle.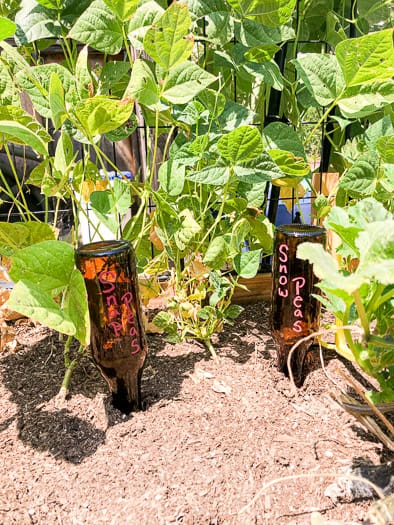 Dry the bottles really well and then label them. I used the Colorshot premium paint marker to label the bottles.
These markers worked perfectly! They were easy to clean off if I made a mistake and were very smooth to write with.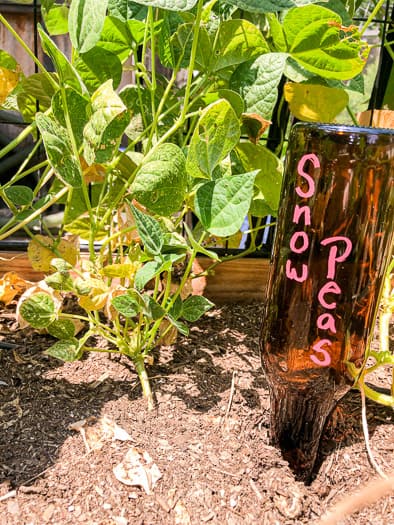 They look great in the garden and are such a simple DIY that I can easily make them for all the different varieties of veggies I plant and can keep them from year to year so I actually remember what I planted!