When we did our backyard garden makeover, I knew I wanted to cover the AC unit. It's just an eye sore. It's not too hard to do, here is how to hide air conditioner unit outside.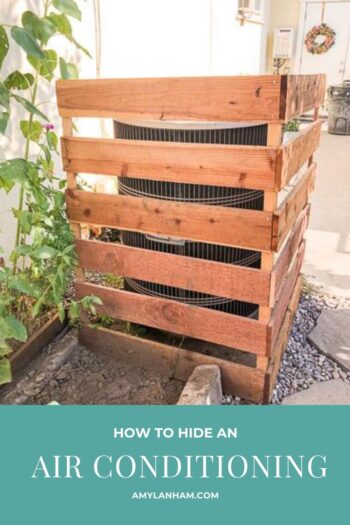 DISCLOSURE: This post may contain affiliate links. If you purchase items through my links I may earn a commission. You can find our full policy here. Thank you.
Now that we're going to be spending more time on this side of the house I wanted something to hide the AC unit! Thankfully, we had some left over wood from building the garden boxes.
I used the leftover wood to build the AC cover so that the cover would match our garden boxes. This helps to give a cohesive look to this side of the yard.
How to Hide Air Conditioner Unit Outside
First, we measured the AC unit. I wanted the cover to be slightly bigger than the AC unit.
We added a few inches to the height, and a few inches to the width. There's a concrete pad around the AC and concrete to one side, but the rest is dirt.
John assembled everything in the garage and then hammered the cover into place. He did this because it was easier to work with the panels laying down then standing up.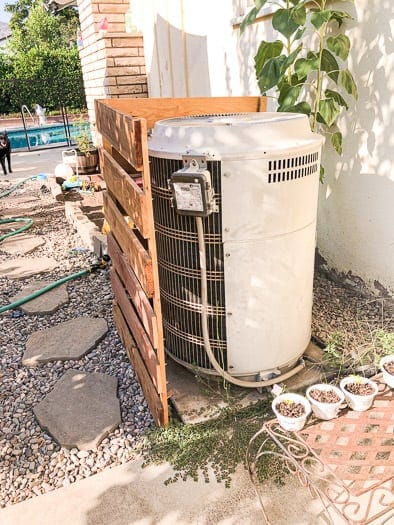 Our AC cover is 32″ high and both sides are 34″ wide. We used left over 1×6 redwood fence posts. After cutting the top of the fence posts off, then just cut each fence post in half.
Cut the 2×2's to 32″ and then assemble. There are 6 boards on each panel and a 3″ gap between the boards.
I wanted a wide enough gap to give enough air flow, and because we only had a limited amount of wood left over.
Make sure to drill a pilot hole first so that the wood won't split, and then put your wood screws in.
Once it's all build, hammer it into the ground. Super easy!
Yield: 1
How to Hide Air Conditioner Unit Outside
How to make a cover to hide an ugly air conditioning unit outside
Instructions
Measure your AC unit to decide how high and wide you need your cover. My AC unit was 30" high, and 33" wide. We decided to make the cover 32" high and 34" wide.
Cut 3 2x2's to the height that you want, don't forget to add a few extra inches to stick in the ground - a height of 32" above ground plus 4" underground.
Cut off the top part of the fence post, now cut the 1x6 to size. We just cut ours in half.
Lay out your 2x2's and then start attaching the 1x6's. Leave 4 inches at the bottom to go in the ground, drill a pilot hole so the wood doesn't split, then attach the 1x6 to the 2x2 with wood screws.
Leave a 3" gap in between the boards.
Once one side is done, start on the other side. Using the middle 2x2 as the anchor post for both sides.
Hammer into the ground!
Notes
You don't have to use fence posts, but they are cheaper than normal 1x6.
Some other fun garden DIYs we did were making a dirt pit for the kids to play in and a DIY trellis!