When we made our garden, we knew we'd need some trellises. So of course, I decided to DIY a trellis. Here is my DIY trellis ideas.
Originally, I had wanted some trellises that I could walk underneath and that went from box to box. And while we may still do that, it just wasn't in the budget at this time.
So we decided to use something we already had to create a DIY trellis.
DIY Trellis Ideas
Before we built the garden this side of the yard was kind of a mess. Our trash cans sat back here and we had a wood pile. It was just a bunch of stuff we didn't want the kids to get in to.
So we put up a fence. It wasn't anything special. We'd actually bought it for our old backyard. We had it on hand, so we decided to use it.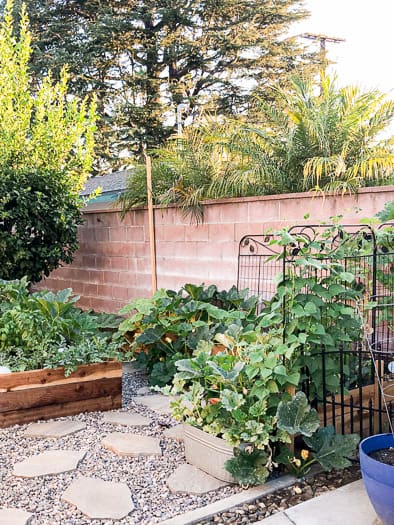 When we took the fence down, I thought I might use it as decoration in another part of the yard. We got the boxes in and I started to think about how I would create a trellis.
I needed at least 2 of them immediately. I wanted to block out the pool equipment and I needed something for our pole beans to grow on.
I thought about making some trellises with wood, but we were already over budget, and I didn't want to spend anymore money. Then I saw the fence pieces laying over in the corner.
LIGHT BULB!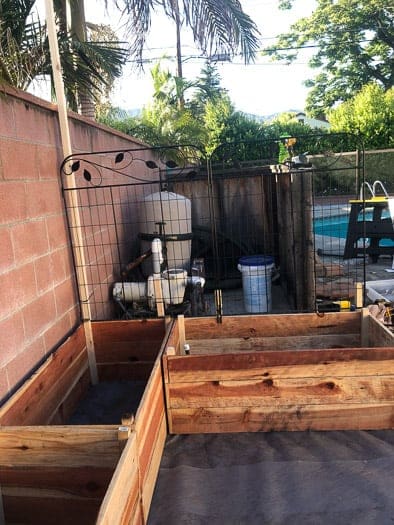 We could use the fence pieces as a trellis. It was something we already had, so it wouldn't cost any extra money. They were in good condition and they were cute.
If I ended up not liking them in the future it would be nothing to take them down and put something else up.
How to Install Fence Trellis
We needed a way to attach the fence trellis to the boxes. We had some left over 2×2's so we attached 2×2's to the backs of the boxes with wood screws.
Then, we attached the fence to the 2×2's with clear zip ties. I secured it in multiple locations so that the trellis would stay upright now matter the weight that was put on it.
Now we have inexpensive trellises that look great and are completely functional!