Book page ghosts are the perfect spooky decor to add to a bookshelf or reading nook. Easy to make and adorable!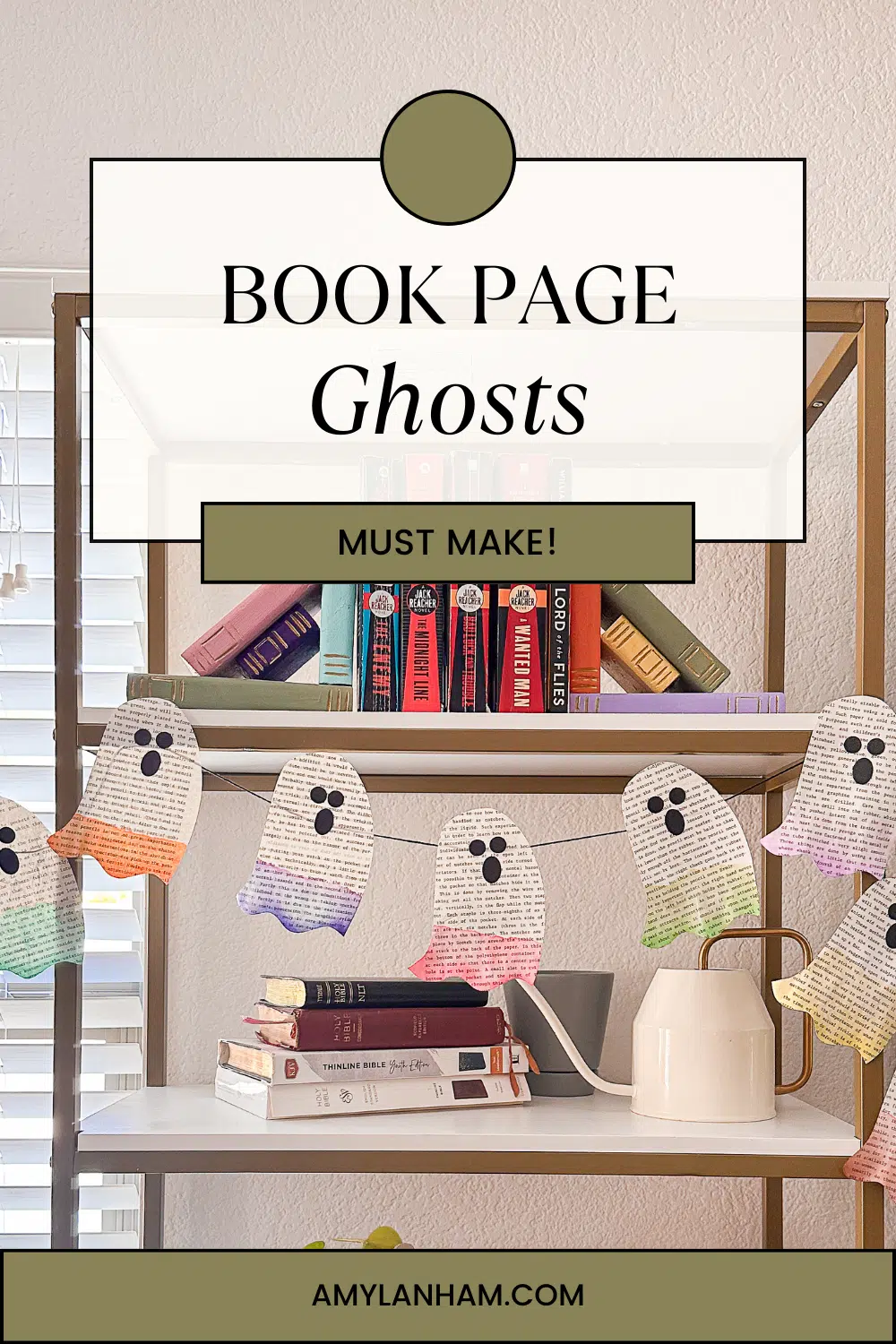 DISCLOSURE: This post may contain affiliate links. If you purchase items through my links I may earn a commission. You can find our full policy here. Thank you.
Is there anything cuter than book page decor? I love the idea of taking something and re-purposing it into something else! I think that's why I love book page decor.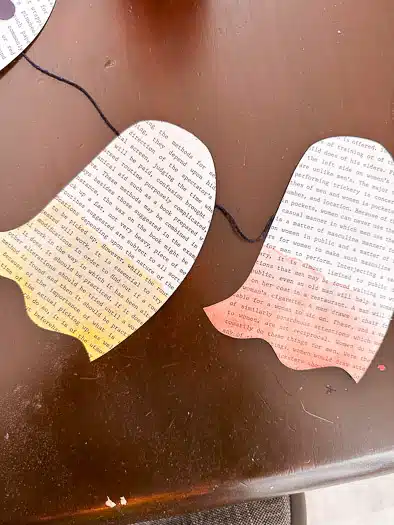 Want more ideas like this? Subscribe today and get access to our VIP library with tons of free printables and our monthly newsletter full of DIY ideas.
It's a great way to re-purpose a damaged book or just reuse a book that you may not have enjoyed.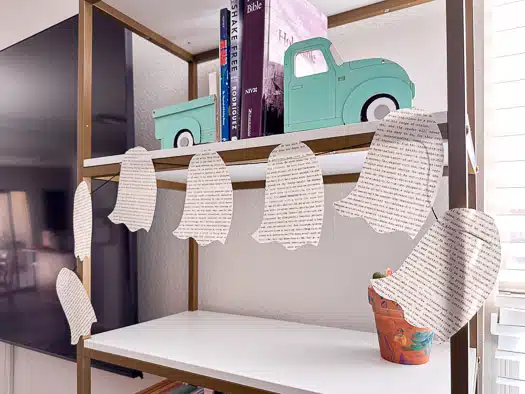 How To Make Book Page Ghosts
I love the way these turned out and it wasn't too hard!
What You Need:
Tools Needed:
Scissors
Cricut or other cutting tool
Paint Brush (optional)
Supplies Needed:
Black Cardstock
Book Pages
Glue
Twine
Watercolor Paint (optional)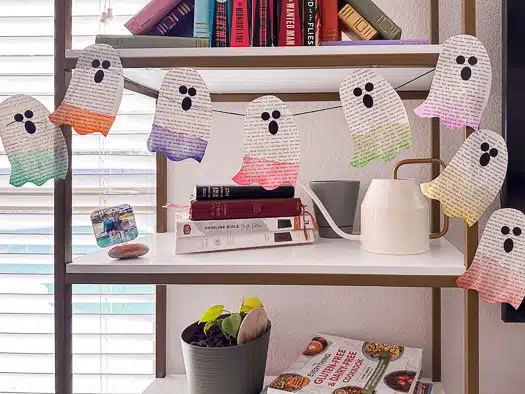 Book Page Ghost Tips
Using a Cricut May not Be the Best Idea
You might think this is the perfect craft for a Cricut, but I didn't think a Cricut helped that much. My Cricut had trouble ripping the pages at first. I changed the knife tip out for a brand new one and it did better.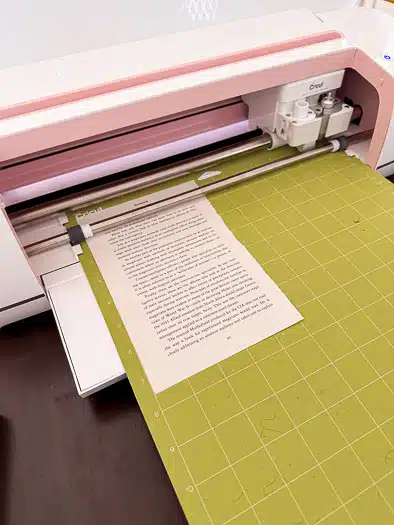 But it still ripped a couple of the pages. Also, since book pages are so small, I could only cut out one ghost at a time. Which meant lots of loading and unloading.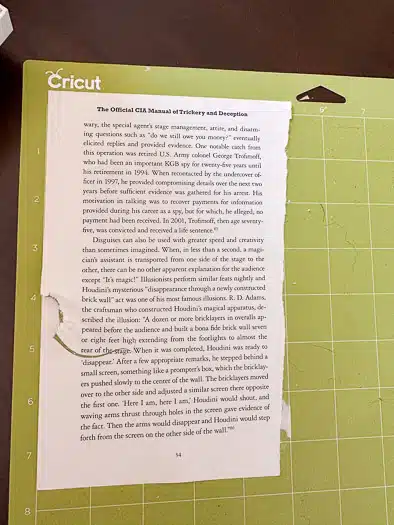 If you pick a very complicated design, of course it will be easier to cut it with a Cricut or other cutting tool. Since my design was super simple, I found it to be much faster to cut out the ghost by hand.
Just use one of the ghosts the Cricut cut as a template and use scissors to cut them out.
How to Create Ombre Watercolor Effect
I thought the ghosts looked too plain and needed to add some color. You can definitely leave them as is and not add color.
I just used my kids water color paints. First, use a paintbrush and water to wet the middle third of the ghost. Then dip the brush in color, and paint the very bottom.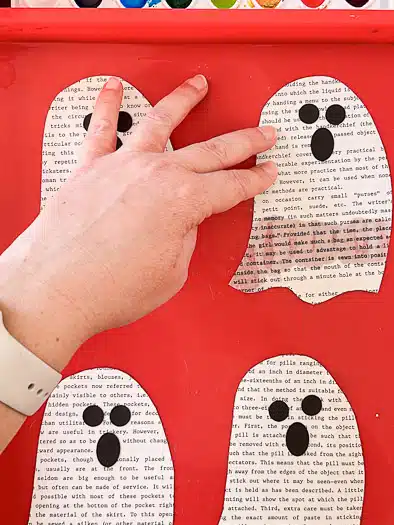 Dip in color again, and add water, to lightly paint and drag the watercolor up into the wet area. This will allow the watercolor to spread, but not be so concentrated in color.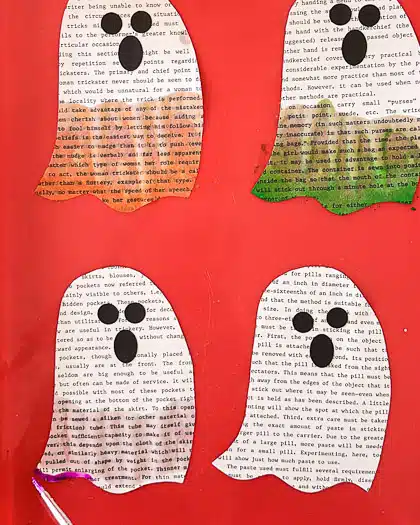 Make sure to pick up the ghost when done and move to a dry area to dry. Otherwise the ghost will continue to soak up water that is underneath it.
Yield: 20
Book Page Ghosts
Make these super cute book page ghosts perfect to add a little Halloween anywhere in your house!
Materials
Book Pages
Glue
Twine
Tape
Watercolor Paints
Instructions
Use a Cricut or scissors to cut ghosts out of book pages.
Use a Cricut or other cutting machine to cut out two circular eyes and one oval mouth for each ghost out of black cardstock.
Glue the eyes and mouth onto the book page ghost.
Use watercolors to add ombre colors to the bottom 2/3 of the ghosts. Use all different colors or just one color.
Use tape to attach the twine to the back of the ghosts to hang up.
Love the ideas you see here on AmyLanham.com? Subscribe today and get access to our VIP library with tons of free printables and our monthly newsletter full of DIY ideas.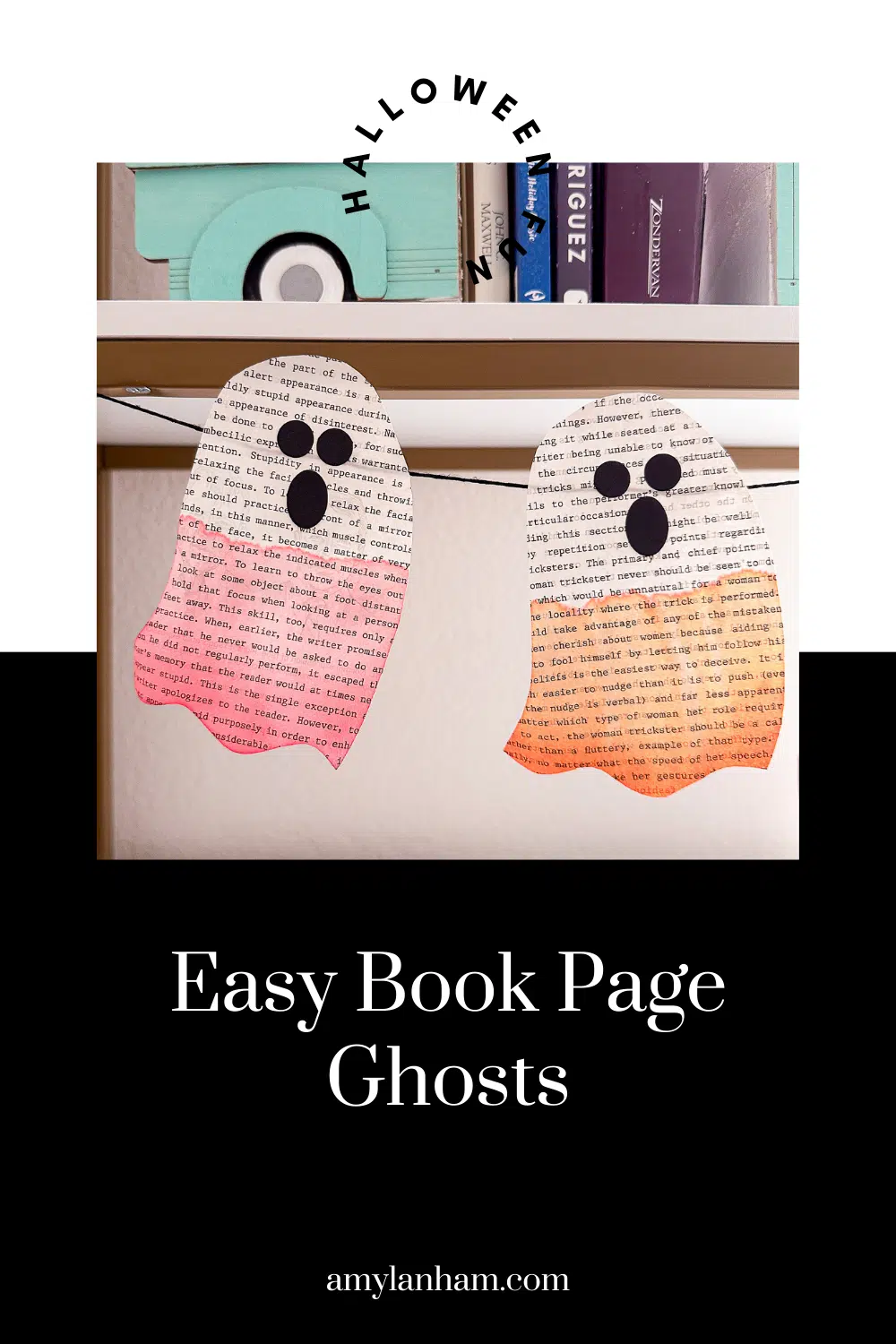 What's Next?
If you liked these book page ghosts, you'll probably like these other Halloween decor ideas.
Skeleton Torso with Flowers
Spooky Halloween Flowers