For Bugs second birthday I really wanted to make him a toddler learning tower. I've seen them all over Pinterest and they look so awesome! With the new baby coming, I want him to be able to be really involved.
He loves helping us with the laundry and we already use chairs and step stools so that he can reach the sink or other areas that he's too short for.
DISCLOSURE: This post contains affiliate links. If you purchase items through my links I may earn a commission. You will not pay more when buying a product through my link and you do not have to use my links. I only recommend products & systems that I use and love myself, so I know you'll be in good hands. You can find our full policy here. Thank you in advance for your support.
Toddler Learning Tower
After doing a lot of research, I found the Ikea Bekvam stool. It's perfect. There are many tutorials out there on how to create a learning tower with this stool.
My favorite comes from Happy Grey Lucky. She has specific measurements and a great step by step tutorial on how to create this toddler learning tower. My husband followed it step by step and the toddler learning tower came out perfect! Bugs loves it and so do I!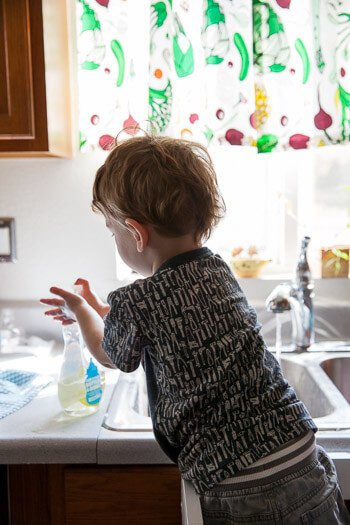 It honestly makes my life so much easier. He can easily get on the stool to wash his hands. I've been having him help me load the washing machine, which he loves.
When it's lunchtime I have him 'help' me cut things. Although, he usually just stands at the counter and starts eating whatever I've already cut up! This was such a great idea and I'm so glad that my husband was handy enough to make it.
We decided to paint it white because it will go with anything. I really wanted to paint it a fun color, but we were worried it might clash in future places we live and I want this to last a long time.
We also decided to cut the back piece off that 'holds' him in place. We felt it didn't really hold him there and it made it too difficult for him to get up and down completely on his own. So we cut it off. We might try to put a swinging arm on it, but for now, it's perfect.