At the beginning of the year, when I wrote about our goals, I mentioned that I had been listening to Dave Ramsey and we'd been trying to stick to a budget. Because of this, we decided to reevaluate our Christmas gifts for 2016. We put together a budget for every person on our list in Google Spreadsheets with what we wanted to get and then the actual amount we spent. We looked for deals and tried our hardest to stay under budget. But for ourselves, we wanted to do something different.
Ten Dollar Christmas
Our first married Christmas together we had very little money. I had just graduated from college and wasn't working for the first few months. I got a job in October and we were still trying to figure out life. So that year we did a handmade Christmas. We made gifts for everyone we knew and it is by far my favorite Christmas we have had to date. My husband made me this little nativity set and I made him ornaments for the tree.
When talking about what we wanted to do for Christmas this year, we kept going back to that first Christmas together. We loved the idea of handmade gifts but thought we might need supplies. So we decided to do a ten dollar Christmas. We both came in way under budget!
His Gifts
John made me some beautiful wood pieces for our house. His cousin has an Etsy shop where he custom makes these pieces. John went over to learn the craft and make my gifts. He made a wood cutout of our last name and also a silhouette of our son. They came our absolutely gorgeous and I definitely shed a few tears. The silhouette was supposed to be an ornament, but it was too cute to put away in the Christmas box. So both hang on the wall now. He also wrote me the sweetest letter I have ever read.
My Gifts
We both tried to go pretty sentimental for our gifts. John and I always have this argument about whose doing what. He always comments that it's not a tit for tat game and that I never notice what he does. I wanted him to know that is simply not true. So I took a deck of playing cards and wrote out 52 ways he shows me he loves me. They turned out really cute and I think I got my point across.
I also made some printable Love Coupons for Parents. They're funny and adorable. And finally, I made him a 1st parent's ornament out of one of Bugs bodysuits. This is not the most beautiful thing, but I almost never sew and for being a beginner I think it came out great.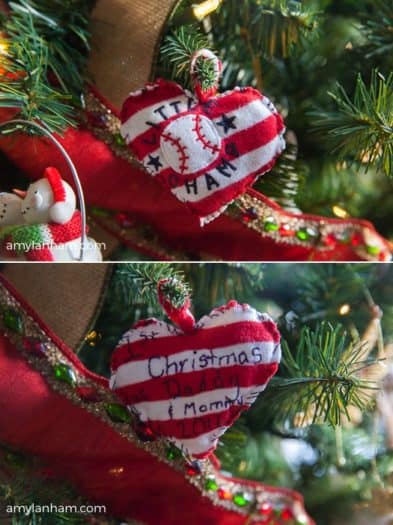 What do you think? Would you ever do a ten dollar Christmas? I'm thinking this should be a new tradition every year!
To get the Love Coupon Printables and access to our VIP Freebie Library subscribe to our VIP list below!