Wondering how to make a mini book ornament? This is a perfect way to track all the books you read in a year. Also, get a free template for how to print the covers!
DISCLOSURE: This post may contain affiliate links. If you purchase items through my links I may earn a commission. You can find our full policy here. Thank you.
One of my goals is always to read more books. I think in 2022 I read the most books I have read in a long time, 12. I was pretty happy with my 12, but my sister read over 100!
She's also going to nursing school. 100 books in a year is a gargantuan feet, 100 books while also getting a BSN seems impossible. So I figured this accomplishment should be memorialized.
Want more ideas like this? Subscribe today and get access to our VIP library with tons of free printables and our monthly newsletter full of DIY ideas.
How to Make a Mini Book Ornament
I'm sure you've seen this mini book ornament somewhere on the internet already. I'm not the original creator, but I couldn't find a tutorial, so I just winged it.
The hardest part is sizing the book covers correctly. So I created a template that is housed in the VIP library. There are two templates, one to help you size the book covers in photoshop or another photo software and one for Canva.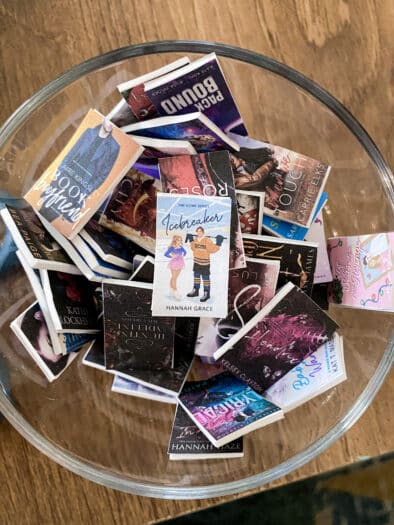 The Canva template is awesome because you can just drop your photos in and it does all the sizing for you! If you want to size them yourself and don't need a template, the covers are 0.8 inches tall by 1.2 inches wide. I was able to fit 72 covers on a standard sheet of paper.
Supplies Needed:
Scissors
Sticker Paper
Foam or Cardboard (I used foam, but cardboard would have been better)
Ornament Ball
Tips for Making a Mini Book Ornament
How Do I Get All The Book Covers?
If you track your books read in Goodreads this process is really easy, if you don't it will be a little more time consuming.
On Goodreads, open your books list. Now you won't have to search for each individual cover. Make sure to open each book in a new tab and save the image of the book cover to your computer. Don't screenshot or save the little thumbnails, they will be blurry and you'll have to start all over. Yes, I saved and printed out over 100 blurry books, twice.
If you don't have Goodreads, you'll need to search for each book and save the cover from Amazon or another book website. It's probably easiest to just make a Goodreads and save all the books to that.
Can't I just stick the stickers to the foam or cardboard and then cut?
Unfortunately, no. I also tried this, thinking it would save so much time. And it would, if it worked. But the paper sticker just rips when trying to cut through. It makes for not very cute books and would be very noticeable in the finished product. Cut the stickers first, then stick them to the cardboard or foam.
Why don't you recommend using foam?
The sticker paper doesn't really stick to the foam well. It peels off and while I think it will be fine, it makes it difficult to work with. The sticker paper sticks to the cardboard better, cardboard is readily available in my house, and it looks almost the same. If you really care about having a white edge instead of a brown edge, the cardboard could be painted.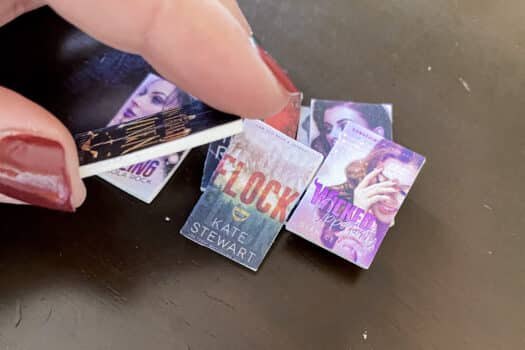 Love the ideas you see here on AmyLanham.com? Subscribe today and get access to our VIP library with tons of free printables and our monthly newsletter full of DIY ideas.
Yield: 1
How to Make a Mini Book Ornament
This is a fun way to display the books read in a year or your favorite books!
Materials
Sticker Paper
Foam or Cardboard
Ornament Ball
Instructions
Print 2 of each book cover on sticker paper. Cut them out.
Attach one side of the book cover to foam or cardboard. Cut out the foam around the book cover.
Find the matching cover and stick it to the other side of the foam or cardboard.
You Might Also Like
If you like this mini book ornament you might also like these other ornaments!