A few weeks ago I gave a Living Room Wall Display Guide so that it would be easy to see what size print would be appropriate for your walls. I also thought it might be a good idea to show you some different gallery ideas. So that you can get a feel for how different prints will interact with one another on your walls. Obviously, things might fit a little differently in your home than they do in these displays, but this will give you a good jumping off point and will show you some of the things you can do. This is in no way a comprehensive list. If you have an idea of what gallery set up you would like on your walls, I could definitely help you create something that would work for your house as well.
I have created 5 different gallery views. Again, these are just a few things that you can do. When printing and displaying photos there are unlimited options.
Living Room Gallery Ideas
This room features a large landscape 24×36 canvas with two landscape framed 11×14 matted prints flanking it to both sides. This set up would also work in all portrait or a combination of landscape and portrait.
This room features two portrait 30×40 canvas' displayed right next to one another. There are also 5×7's and an 8×10 on the side tables, to give you an idea of the differences in size. If you had landscape pictures that you liked you could also display them on top of one another or use three canvas' like below.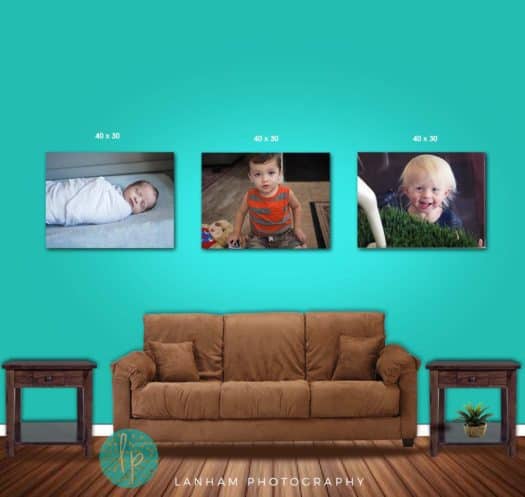 This room features three landscape 30×40 canvas' displayed next to one another. This would be good for a big feature wall above a couch as this is going to take up a lot of space. This is also a great idea if you have children, they can each be featured on their own canvas. Or you could do a family photo in the center with the children flanking each side, the possibilities are endless with all these options.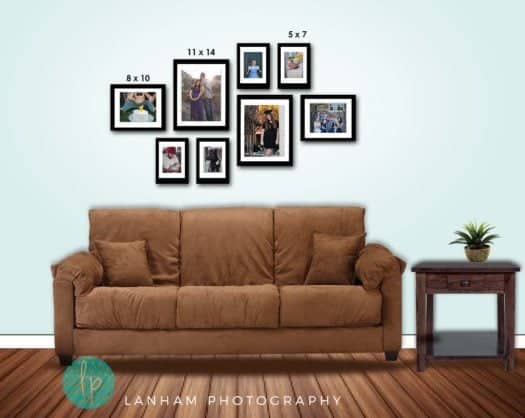 Sometimes more is better. This room features two portrait framed 11×14 matted prints, two horizontal framed 8×10 matted prints, and four portrait framed 5×7 matted prints. This is one of my favorite options for displaying photos, as I always have such a hard time picking just one or two photos. Since this is all matted prints, it would be easy to switch out photos as your family grows and as you take new photos.
This final room is also a good option if you want to be able to change photos frequently. It features one portrait framed 16×20 print and four framed 8×10 prints.
I hope that these living room gallery displays give you some great ideas for your own home and help you decide how to display your photos in your own home.