I have seen other graduation money lei's around, but I wanted to do something a little different. So I created a graduation money lei chain.
My husband just graduated from college! I wanted to make this accomplishment special for him and definitely didn't want to glaze over it. I planned a little graduation party for him, with some close friends and family.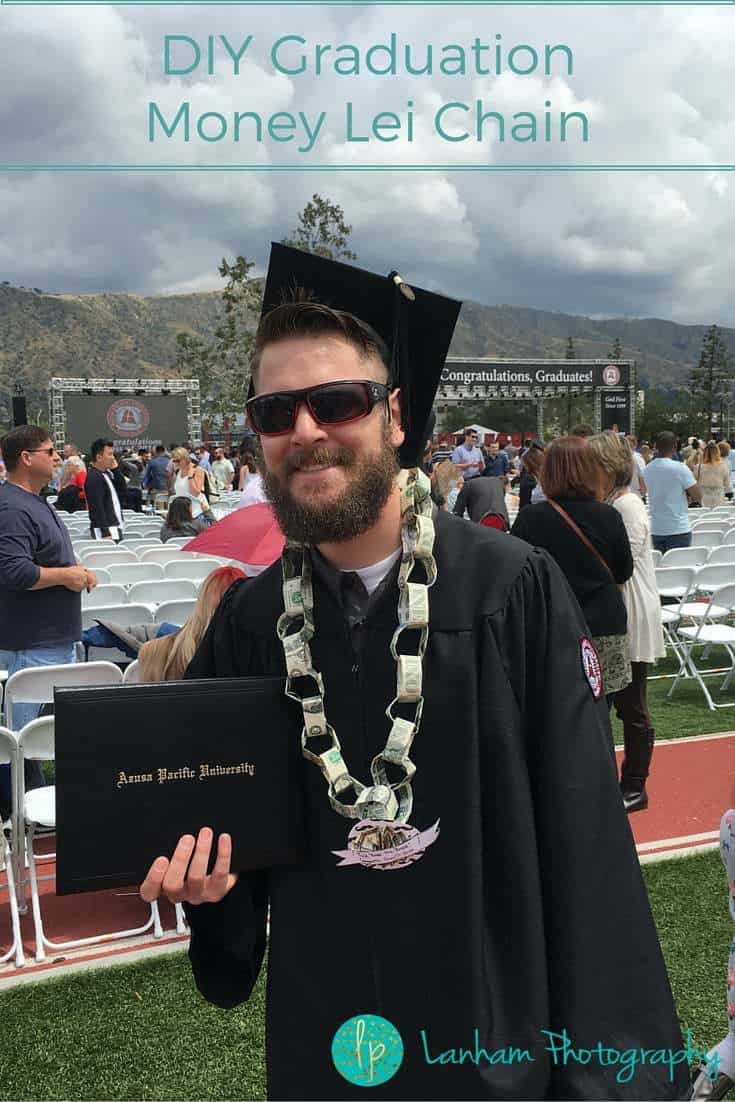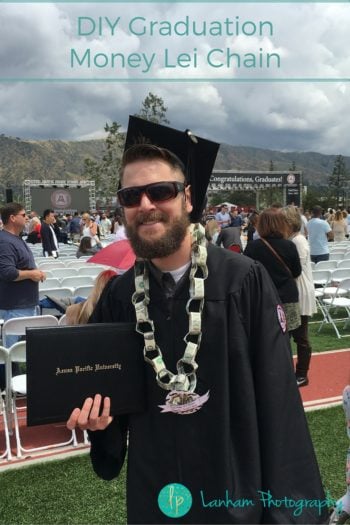 But we were also doing Bugs' dedication at the party. I wanted to make sure hubs knew what a big accomplishment I thought this was and that I wasn't glazing over it. So I wanted to make him something special.
I scoured the internet for graduation ideas, mainly looking at Pinterest, and everything was sooo girly, aimed for high school grads, or aimed for college grads who were soon to be looking for their first real job. Since my husband already has a great job, and a family, none of those things really fit.
I had seen other graduation money lei around, but I wanted to do something a little different. So I created a graduation money lei chain after seeing some of the pictures on Pinterest.
Graduation Money Lei
Start out with crisp dollar bills. You will probably need about 30 one dollar bills to create a long enough chain, and then one extra bill for the medallion in the middle, you can use whatever bill you want from $1-$100 depending on how generous you are feeling. I used a $20
If your bills aren't crisp enough, you can always iron them on low heat to get them crisp.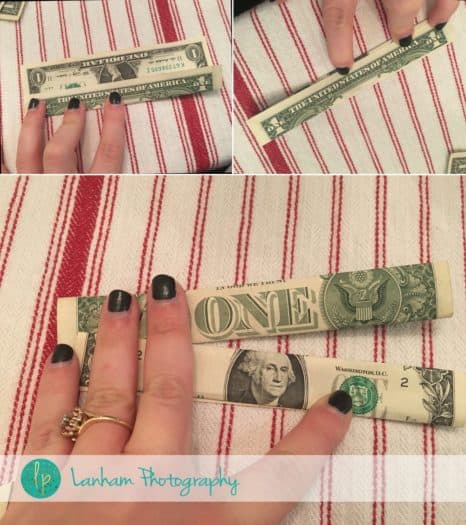 Start with your first dollar bill and fold it into thirds. I folded some so that George Washington's face was facing outwards and some so that the "one" on the back was facing out. If you wanted to use less dollars, you could use scrapbook paper strips as well, and alternate those.
After folding all 30 $1 bills into thirds, start creating the chain. For the first link you just make a circle, putting the two edges together. Then, you can either tape or staple the edges to keep the circle together. I started out taping, but it was tedious, and I was afraid the tape wouldn't stick well enough (it will, it was hard to get off, the staples were much easier).
Then, loop the next folded dollar through that link to create the second link, create your circle, and staple or tape. It's pretty easy. I alternated with "George" then "one" then "George" then "one", so on and so forth. I felt it gave it a better look.
When you get to the last dollar just loop it through both the first link you created and the last link and then staple/tape. You will have created a necklace.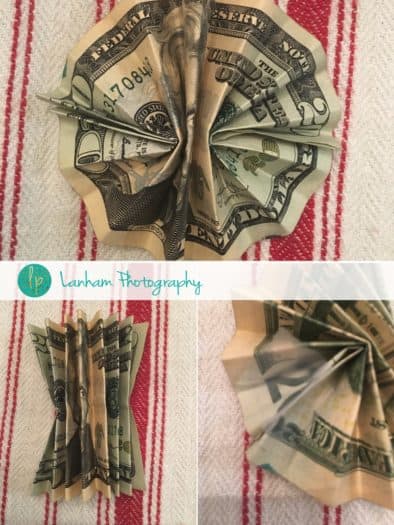 To make the center medallion for the graduation money lei, you fan fold your bill. Just start at the edge and make a fold, then turn the bill over and fold that same fold over again. The picture makes more sense. Once the bill is all folded, pinch the sides together and tape.
I cut out a large circle of some scrapbook paper and then layered the money medallion over the paper and stapled the two together. To connect the money chain necklace to the medallion, I looped a dollar onto the chain and then stapled that looped dollar to the medallion. This gave the medallion a little bit of bulk, but it kept it forward facing.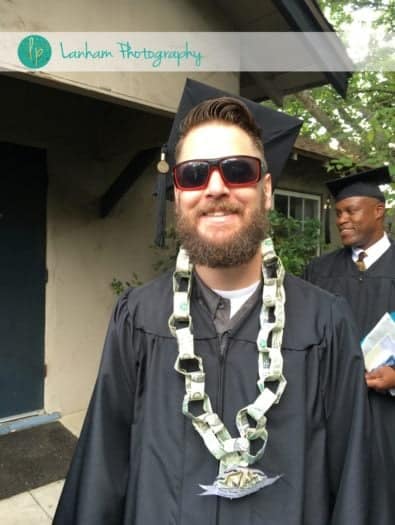 Here you can see what it looks like all put together. You can also add on a banner, like I did in the picture. I just cut a banner out of scrapbook paper, wrote "congrats grad" and then stapled it over the dollar bill on the medallion.
My husband LOVED his money chain, as did everyone around him. I know it definitely made him feel special that I went the extra little bit to make him something that he was totally not expecting!
I think this kind graduation money lei chain is great for any guy for graduation. So what do you think?