Our garage is in need of some serious help! I knew pegboard organization would look amazing and allow us to see all our most used tools easily. This was a really big project though. It took us almost 4 whole days to get the garage organized.
DISCLOSURE: This post was sponsored by National Hardware. I was gifted supplies to organize my garage. All opinions are 100% mine. Thank you for supporting brands that support me!
When we moved into our home earlier this year, we were so excited to get started on organizing the garage! Over the years, we've acquired a lot of tools, but have had no where to put them. So we've been shoving them in plastic bins, random tool bags, and one big tool chest.
It's gotten ridiculous trying to find anything. My dad has commented on more than one occasion about how messy our tools have gotten. We wanted a permanent and pretty solution to tool organization.
But, before we could tackle all the tools, we first had to get a room addition done. We moved into a 3 bedroom 2.5 bath house, which is the perfect size for us, but we really needed a guest room. Now that John's working from home full time, we also really wanted an office. So we added a 4th bedroom downstairs using one of the bays of the 3 car garage.
As soon as the guest bedroom/office build wrapped up, I got busy with the garage reorganization! No seriously, the rooms still not painted and we haven't moved John's desk yet. The garage was more important!
Painting the Pegboard
DISCLOSURE: This post may contain affiliate links. If you purchase items through my links I may earn a commission. You can find our full policy here. Thank you.
We bought the white 3/16″ thick white pegboard and had it cut down to the size we wanted. We have a beam that runs through our wall and wanted the pegboard on both sides of the beam so we chose to have the 8 foot length cut to 5.5 feet and 2.5 feet.
Even though this is a garage pegboard organization, I still want it to look cute! So I painted the pegboard.
I had so much fun with this painting project! I knew the general look I was going for, but just played around with shapes and colors to get this design.
After looking at my paint stash, I had so many different greens, and thought it would be fun to do a monochrome with different greens and some shapes.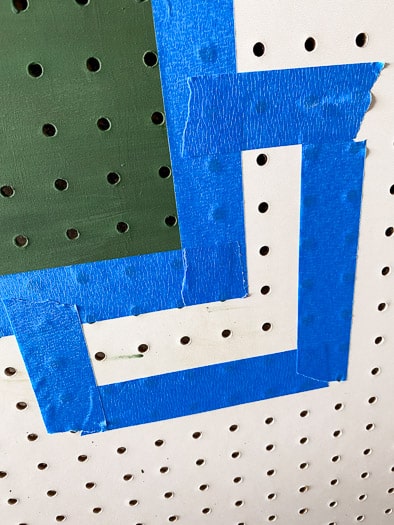 I taped the pegboard, used paint cans and different bowls to make my arches and circles, and then let the kids go to town painting the pegboard.
But there was a problem. When the kids were done painting, I realized the paint wasn't sticking to the pegboard. I thought I had read that it was primed, but I read incorrectly. It's painted with an acrylic paint to help protect it from scratches, but its a slick surface.
So before the paint fully dried, I took a wet cloth and some muscle and wiped all the paint off. Back to where I started and determined to have a cute pegboard, I tried again!
Painting a Pegboard the Right Way
I took some 220 sand paper and scuffed up the pegboard. I was careful to only sand where I wanted to paint. Then I made some chalk paint using craft paint and calcium carbonate. Let the kids paint again and this time it came out perfect!
Since I had messed up, I needed to go get more paint for the second coat though. While at the store Little Miss picked out this perfect rose pink, and I thought it complemented the green nicely, so I went with it!
Once the second coat was on, and the paint was dry, I put 2 coats of polyurethane over just the painted areas to protect it.
Installing the Pegboard
I found a 8 foot long work bench on Facebook Marketplace. It fits the space perfectly! We had to notch out the table on the work bench a little bit too, but the pegboard fits perfectly above the work bench.
We used the pegboard spacers from National Hardware and drilled the screws directly into studs. The pegboards are super sturdy and not going anywhere!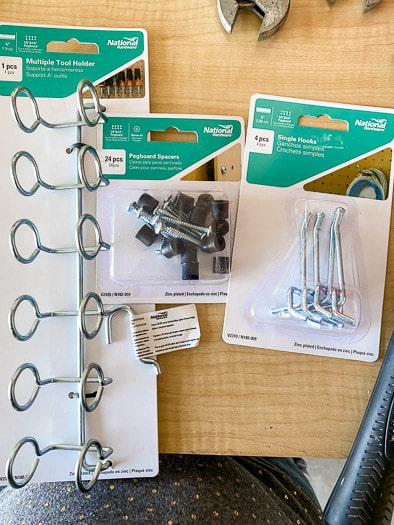 Pegboard Organization
Now there are plenty of garage pegboard organization ideas and different ways to organize pegboards. We wanted to use the pegboard to organize a lot of our smaller tools and paint brushes.
The National Hardware multiple tool holders are perfect for screw drivers and pliers. If you put them towards the bottom you can even organize pens and pencils so that they rest on the work bench.
The single hooks are great for paint brushes, rulers, squares, small hand saws, tape, rope, and other supplies. So many different tools can be held with these pegboard accessories!
Then the curved hook is used to hang wrenches of all different sizes. These pegboard hooks also good for holding paint brushes, lights, and masks.
I love that I can now see everything that we use frequently at a glance and don't have to wonder where a screwdriver or the tape is!
What to Do with Things that Won't fit on a Pegboard?
I know what you're thinking, but Amy, there's ladders, and kids toys, and so many other things that just won't fit on a pegboard!
Don't worry! National Hardware has you covered. They have plenty of supplies for organization outside of a pegboard as well.
On the side wall of our garage, I used their double arm ladder hanger, for hanging ladders and a people mover. The all purpose hanger hangs another ladder and a step ladder by my garage door.
They even have storage solutions for all of our scrap wood. Having it just laying on the floor was not ideal.
We used their single arm hanger to hang all the scrap wood we have up off the floor! Now if there's ever a leak, it won't get damaged!
---
Now on to some questions that I'm sure you might have.
Is a pegboard good for my garage?
It depends, what do you want to store? If you have lots of small tools, yes! Otherwise you might need some different storage options. National Hardware has you covered either way.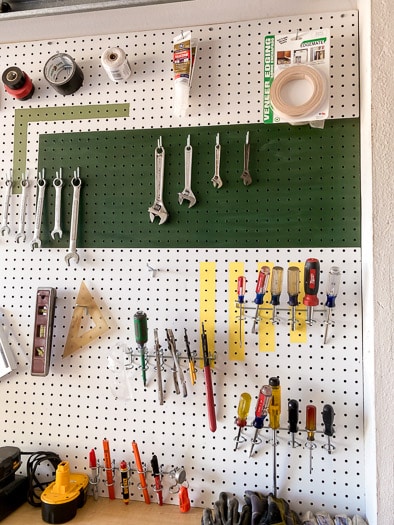 How much space do I need behind a pegboard?
A 1/2″. The best way to make sure that you get the correct spacing is to buy National Hardware pegboard spacers. They come with the spacers and screw, just drill into a stud and you're good to go!
How much weight can a garage pegboard hold?
Pegboard manufactures recommend 100 lbs as the weight limit for a pegboard. But I highly recommend looking into A Butterfly House experiment on how much a pegboard can hold. It is thorough and interesting!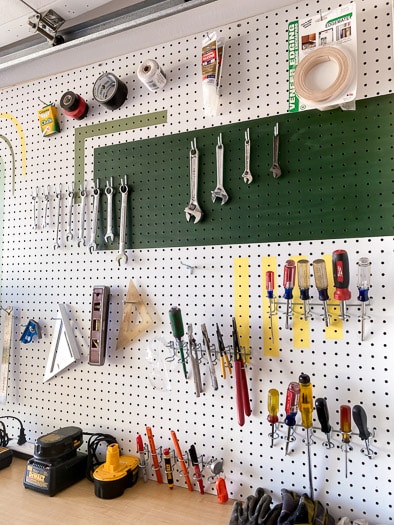 Is it easy to break the pegboard?
No, not at all. We had to cut through ours in order to access the plug behind it. A razor edge was not strong enough, we ended up using a small circular saw to cut it.
Do I really have to sand the pegboard to paint?
YES! Absolutely. I attempted to paint before sanding and the paint is easily scratched and wipes right off with water. I recommend sanding with 180-220 to scuff up the pegboard, painting with a chalk paint, and sealing with a polyurethane.
I'm so happy with how the garage turned out! I find myself just staring at all our organization. It was so much work, but so worth it!
Let me know if you create your own pegboard storage system. I would love to see it! You can always email or tag me on Instagram.