We inherited my husband's grandma's piano and I painted it a beautiful blue color. It has become a centerpiece in our living room, so I wanted to make a DIY spooky music book for the piano.
DISCLOSURE: This post may contain affiliate links. If you purchase items through my links I may earn a commission. You can find our full policy here. Thank you.
Every year I decorate the piano more or less like a mantel. This year, I wanted to add an extra special spooky music book.
No one in our family plays the piano, but I love the way music books look sitting out on the piano. I know a few notes, so I figure maybe the kids will learn someday too.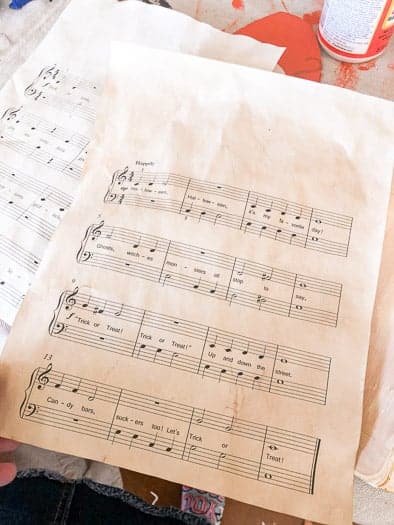 I knew I could make a cute music book using some Halloween songs and have it go with my Halloween decor.
DIY Spooky Music Book
I found a book at my house that I thought would be perfect. It was a little larger than a normal sized book, but the pages were super colorful.
The pages needed to be all white, so instead of painting every page, I fanned the book out and painted all the edges. I did this to each side and sort of glued the pages together.
The book won't close now, but that's actually perfect. As I was doing this, I thought it would be wonderful if I could have Halloween music on one page, flip to the next page and have Christmas music.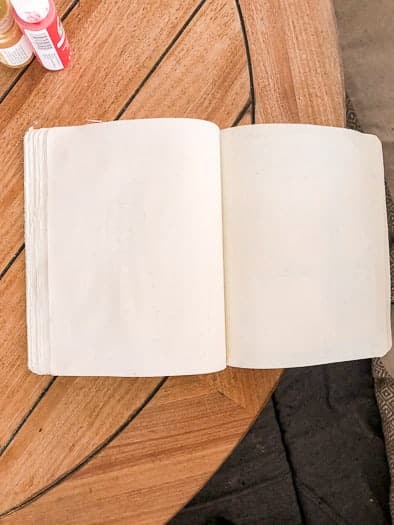 So that's what I did! I left one page loose and then painted all four pages, the two spreads, completely white.
I googled Halloween and Christmas music, printed out the pages, and soaked them in tea to create an aged look.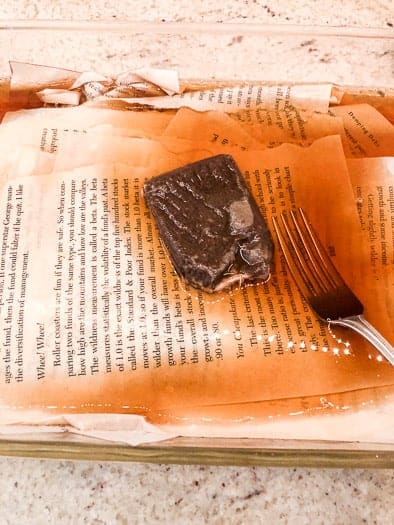 Once the pages dried, I glued them into the book with mod podge. Then I mod podged the whole book to make sure everything stuck together.
I then went over the edges of the pages with gold paint. And wrote out the song titles with paint.
For the Halloween songs, I took a bit of red paint and dabbed it on and then wiped it off to give just a hint of red. I thought it looked a little spooky!
Yield: 1
DIY Spooky Music Book
How to make a DIY spooky music book to use as decor.
Total Time
1 day
30 minutes
Materials
Book
Paint
Printed songs
Tea
Instructions
Paint the pages you plan to use white.
Print out your songs and soak them in tea for 15 minutes. Take out and let dry over night.
Use mod podge to glue the pages into the book. Cutting or ripping away the excess.
Cover the song pages with mod podge and the rest of the book, if wanted, to keep the pages in place.
Paint the edges of the book with gold paint.
Paint on the song titles.
I absolutely love the way this turned out! It looks amazing sitting on the piano.
My theme for my mantel this year is spooky decor with things I already have at home. I made these poison bottles, bat art, spell books, pumpkin jars, and a music book.