Balance beams are so fun and great for kids to practice their balance. This super easy DIY balance beam can be made in a couple minutes. You just need a few supplies.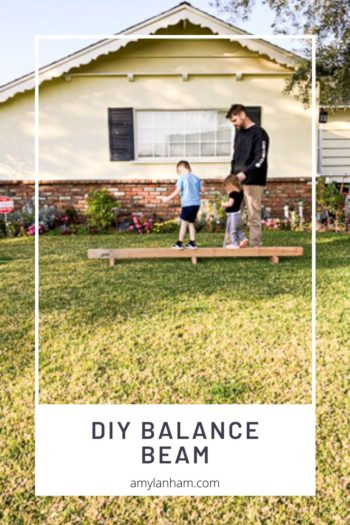 DISCLOSURE: This post may contain affiliate links. If you purchase items through my links I may earn a commission. You can find our full policy here. Thank you.
I've been wanting a balance beam for the kids for a couple months now. Once we decided to build the pikler triangle for Christmas, I knew I wanted a balance beam next.
Then, I sort of forgot about it. Does that ever happen to you? I completely forgot about the project!
But, remember that DIY outdoor shade poles we made last summer? Well, we didn't take down the shades and the Santa Ana's have been strong recently.
All month the poles have been falling down. The wind has been ripping out the guide line and the pots and everything has been falling. We've been fixing it all month.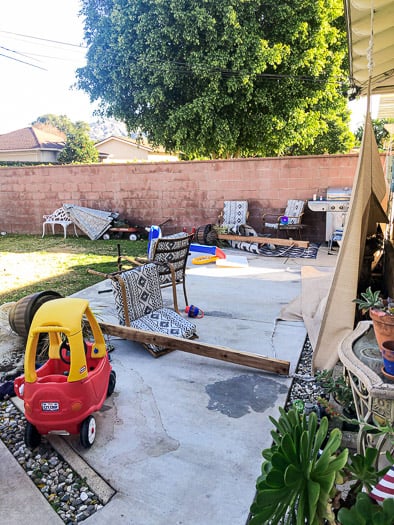 But then last week the wind pulled the pole right out of the concrete base. Cracked the concrete in half! So John laid the beam off to the side, for us to fix eventually.
Well the kids found it and started walking on it. Light bulb!! We have our balancing beam.
DIY Balance Beam
To create the DIY balance beam we took the 4x4x8 foot beam that we had used for the DIY shade poles and added some 'legs'. For the legs we used 2×4's.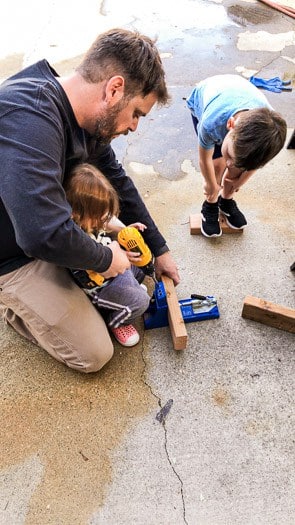 This project was completely free because we had all the supplies on hand. We used kreg jig pocket holes to attach everything together.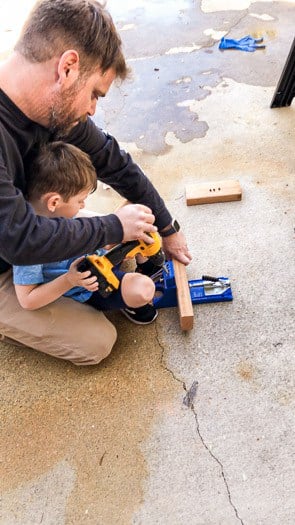 This project was so easy that even the kids could help! They both helped drill the pocket holes in and attach the legs. The whole project, even with the cutting and the kids helping was less than 20 minutes total!
Super easy and super fun!
How to make a DIY balance beam, perfect for kids!
Tools
Instructions
Cut your 2x4 wood into 1 foot sections for the legs. You will only need 3-5 of these.
Drill pocket holes into each of you 2x4 1 foot sections.
Attach the 2x4's to the 8 foot beam. One in the center and then one on each end. Use a minimum of 3 legs.