Christmas traditions sometimes change. There's nothing wrong with that, even when things change, you can still alter your favorite recipes, like this pizzelle recipe!
DISCLOSURE: This post may contain affiliate links. If you purchase items through my links I may earn a commission. You can find our full policy here. Thank you.
Growing up we would always have a day for baking holiday cookies. We'd made orange cookies and fig cookies, chocolate covered pretzels and so many other treats.
After I started having kids and my sister moved away, it got too difficult to continue the tradition. We haven't made cookies in a couple of years. But it's a tradition that I miss.
But I'm not a baker, and making all those cookies was a lot of work! So I decided to start a new tradition this year! Making Christmas pizzelles.
We've made pizzelles before, its a tradition my husband's family used to have. I decided to use his grandma's recipe, but I had to change a couple of the ingredients.
My daughter is allergic to milk, and we just found out that John is allergic to milk and wheat. So I needed to change the recipe just a little to make sure everyone could enjoy this delicious holiday treat!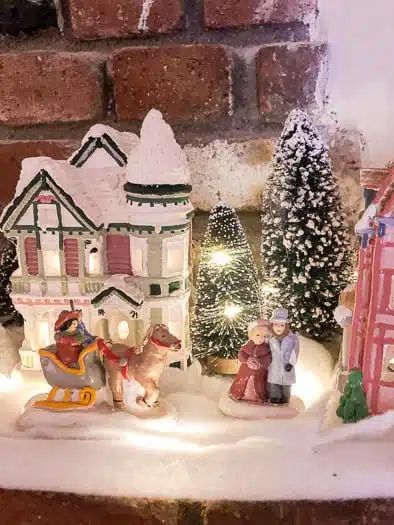 Speaking of traditions, my mom would always put up this little Christmas village. It was one of my favorite holiday decorations.
So I put it on my mantel this year! Ok back to pizzelles.
Gluten Free, Dairy Free Pizzelles
I am so surprised how delicious these turned out! I was kind of expecting this to be a hot mess. Thankfully, it wasn't.
Gluten Free, Dairy Free Pizzelles
Gluten free, diary free pizzelles. Perfect to make for Christmas!
Ingredients
6 Eggs
1 cup Dairy Free Butter, melted and cooled
3 1/2 cups 1 to 1 Baking Flour
4 teaspoons Baking Powder
1 1/2 cups Maple Syrup
2 Tablespoons Vanilla Extract
Optional - Enjoy Life Chocolate Chips
Optional - Spinkles
Optional - Crushed Candy Canes
Instructions
Beat eggs, adding maple syrup gradually. Beat until smooth.
Add cooled, melted dairy free butter and vanilla.
Sift together flour and baking powder.
Stir into egg mixture just until blended. The dough will be sticky.
Drop by heaping tablespoons onto a heated pizzelle waffle iron. Cook until just light brown.
Let cool
Melt Enjoy Life Chocolate chips, dip pizzelles into chocolate, decorate with sprinkles and/or crushed candy canes!
We used Enjoy Life chocolate to add some extra holiday cheer. Dipping these cookies in chocolate and decorating with sprinkles is the perfect way for the kids to help out!
Now that we've got delicious holiday pizzelles and we're all decorated I think we're ready for Christmas!