I signed up for the One Room Challenge and plan on renovating our 1995 travel trailer! To kick off week one, I thought I would share our mood board and before pictures.
Week 1 / Week 2 / Week 3 / Week 4 / Week 5 / Week 6
If you've been following me on Instagram, you know we just recently purchased a 1995 travel trailer. It's in great condition, but I want to give it just a little bit of a make over.
The One Room Challenge is a six week challenge to make over a room. This year I've decided to participate and make over the trailer. Be sure to check out everyone else participating in the One Room Challenge.
Trailer Remodel Mood Board
DISCLOSURE: This post may contain affiliate links. If you purchase items through my links I may earn a commission. You can find our full policy here. Thank you.
The first thing I had to do was decide on colors. I already have some left over Behr paint in Broadway, so I want to utilize this paint in the trailer.
I'm thinking of doing the lower cabinets and dinette in Broadway. For the upper cabinets and walls, I want to keep it light and bright. I want to paint the walls because the old wallpaper is peeling especially around the windows.
I'm planning on doing white on the walls and upper cabinets, maybe a Behr Swiss Coffee. I'm also thinking about wall papering a few of the walls. But we'll have to see where we are with the budget!
This couch is hideous, and I'll have to come up with a solution for it. The water tank is underneath the couch, so replacing the couch isn't really an option. I'm thinking we'll probably go with a cover for the existing couch.
The floors in our trailer are already tile, so it will be really easy to redo the floors. I'm thinking of getting peel and stick vinyl wood floors. We did these in our previous motorhome and they were so nice.
The floors look great in this picture, but they are really starting to yellow from sun damage in some areas. Also, I think there might have been carpet in here at one time because there are a lot of visible staples in the floor. They're thankfully not a safety hazard, just not really pretty to look at!
The lady who owned it before us redid the curtains, but they're just not my style. So I'm planning on replacing these.
The cushions on the dinette are in great condition though, so I'm planning on reusing them. My sewing skills aren't great, and I don't think I could remake them. Plus, I love that they are already a dark color!
I'm not sure if I'll be able to get to the bathroom, but for the bathroom, I would like to get a funky bright shower curtain. I also want new shower head and handles.
New Lights
We've already been getting some of the items in to complete the makeover. I want to replace all the lights with LED lights. The LED lights use up a lot less energy and don't run as hot as the existing lights.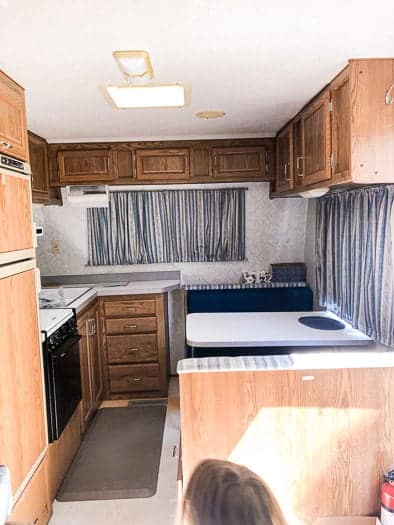 Both of these are important when running on batteries, so I ordered LED lights from Amazon. One dimmable set and one with frosted lights. We have about 8-10 lights in the trailer.
We also bought LED lights for the outside of the trailer as they are brighter then the existing lights. These lights aren't necessarily 'fun' but they will enhance the overall feel of the trailer when it is in use. These were mandatory changes for us.
So looking forward to completing this renovation in the next 6 weeks so we can get this trailer on the road and start camping! I'd love some camping recommendations! If you have any places you love to go, pop them in the comments below.
Check out the Other ORC participants
Don't forget to check out the other blogger's room transformations.