Whew! It's already Week 5 of the One Room Challenge, and I am exhausted. There is so much going on in the world and I have been non stop working on this trailer, in addition to Halloween and now Christmas.
Week 1 / Week 2 / Week 3 / Week 4 / Week 5 / Week 6
DISCLOSURE: This post may contain affiliate links. If you purchase items through my links I may earn a commission. You can find our full policy here. Thank you.
Week 5 was all about the floors. The floors didn't take us nearly as long as I thought they would, but we took a pretty long break with Halloween being this past weekend.
We ended up getting this peel and stick vinyl flooring in Grey Ash. It looks so fabulous on the floors!
Floors
The peel and stick flooring is really easy to install. You basically peel the backing off and stick it on the ground.
The hard part is setting it up at first. We didn't want all the end seams to be in one spot. So we cut the first boards to stagger them, then used all full sized boards until we got to the other end of the trailer.
There were some small gaps that we had to fill in, I'll attach a video below, because it's easier to explain how to do it on video then in text.
The flooring only took us about 3 days to install, and that's only working for 2-3 hours each day. It could easily have been a 1.5 day project.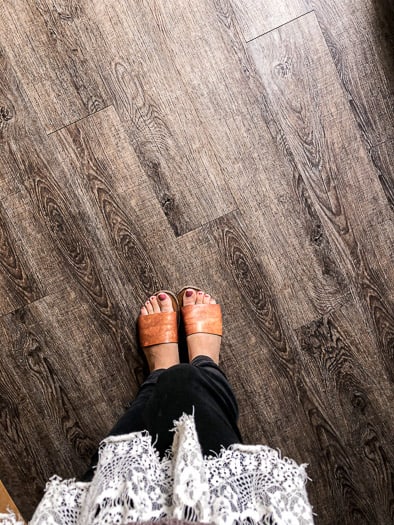 The Plan for Week 5
Because we're nearing the end and I still have quite the list of things I want to complete, I imagine there will be a few things that don't get done. As a reminder, here is everything we hoped to get done.
Renovation To Do List:
Whole Trailer
Paint
Flooring – decide on peel and stick or click and connect
Curtains
Replace Lights
Decide about rugs and wall decor
Kitchen
Line all cabinets and drawers
Make and Install new wooden caps for top of bench seats
New Backsplash
Wallpaper for front wall
Storage
Living Room
Pillows for couch
Make and Install new wood jam for above door
Make and Install new wooden cover for under sofa
Spray paint or replace sconces
Bathroom
New Shower Curtain
Decide on painting or wallpaper
Install new shower handles and nozzle
Other
Caulk around all windows outside
Replace lights outside
Figure out clothes and toy storage solutions
What We'll Actually Finish
As you can see from out renovation list, there's still a lot to do. Realistically, I see us finishing the shower install, wallpaper and backsplash in the kitchen, and then I want to get the full trailer loaded.
We had a couple issues with the backsplash, so I had to order a new one, but it should be here before I need to start on the backsplash.
I still also need to paint the lower cabinets, which really needs to get done, but I'm not sure if it will in time!
If we don't finish much beyond that, I'll still be happy!
---
Make sure to follow along on Instagram, as I'm posting daily updates! Or, check back next week to see all the progress made.
Check out the Other ORC participants
Don't forget to check out the other blogger's room transformations.