I love spring! There's just something about spring that makes me want to start working in the garden. This year I've been really into succulents and I had some succulent garden ideas.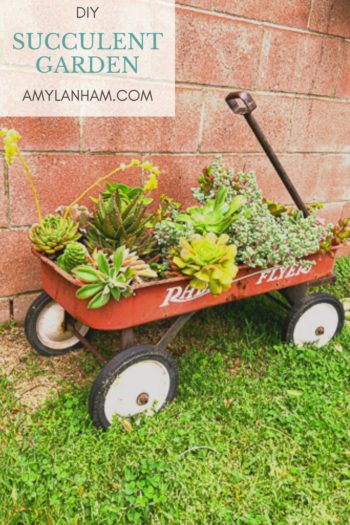 DISCLOSURE: This post may contain affiliate links. If you purchase items through my links I may earn a commission. You can find our full policy here. Thank you.
We moved into my parents house last year and there was this old rusted radio flyer in the backyard. I almost immediately thought it would make an adorable planter!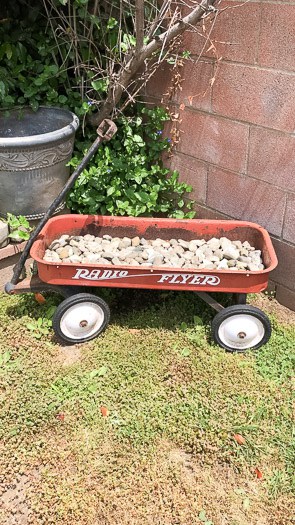 I really wanted to plant veggies in it, but after some research I didn't think it would be the best. For one, it's pretty shallow and some veggies need room for their roots.
Since it wasn't the best container for food, I decided to plant succulents in it instead.
Succulent Garden Ideas
The bottom of the radio flyer already had some big holes, so I placed some rocks on top to make sure the soil wouldn't immediately fall through the cracks.
Succulents need some pretty good drainage, so these holes were already working in my favor. You can also add rocks to the bottom of your container to help with drainage.
I bought some special succulent soil and put it into the radio flyer and then started filling it with succulents. I bought a few succulents, but did you know you can propagate succulents from cuttings? You totally can!
Propagating succulents takes a while, but I was able to finish the rest of the radio flyer by replanting succulents from other containers in my garden.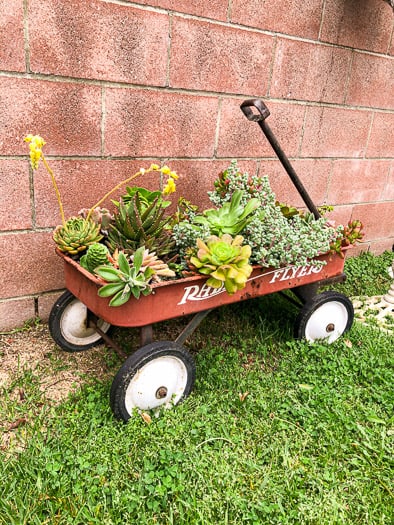 Succulents can be expensive and this is a pretty big container. It would be expensive to buy all the succulents to fill this planter. So I was ok with waiting to propagate new succulents.
I love the way this little succulent garden turned out! It's so cute and makes me smile every time I see it!
Have you ever made a garden out of something unconventional?