8 months old to 18 months is such a hard age! Babies are starting to become mobile and want to be entertained all the time. This is my favorite sensory activities for babies.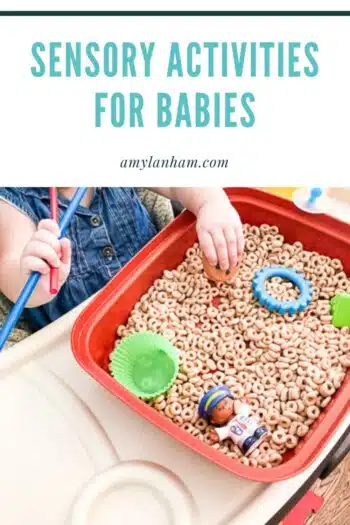 This age can be difficult to keep busy while trying to make dinner or do other important around the home tasks. Sensory activities are great, but a lot of the more common ones aren't taste safe.
DISCLOSURE: This post may contain affiliate links. If you purchase items through my links I may earn a commission. You can find our full policy here. Thank you.
My favorite taste safe sensory activity for babies is cheerios! It's snack time and an activity in one. And the older kids like it too!
I like to give cheerios in a bin with some toys that we can hide under the cheerios. She can look for the toys under the cheerios and she has so much fun continuing to hide and uncover them.
I also throw some straws in there. She likes to chew on them and it can be an early threading activity if she chooses.
This cheerio sensory bin has gotten me through some hard times and I hope you'll try this sensory activities for babies with your baby!