Have you ever printed a picture and been shocked when you receive it and realize how small it is? I did this when I ordered a canvas of my wedding picture. For some reason I thought a 16×20 was a lot bigger than it actually was. And when you see these sizes out at a store or other location, it doesn't really give you a feel for how they will look in your house. In a store there is nothing to compare it to. Everything always seems much smaller because of the vastness of the store.
That's why I created these two wall guides for you. While it's not your furniture, I think it helps to give a perspective of what to expect when ordering prints. Larger prints always look better as a stand alone statement piece. You can also pair larger prints with smaller ones to create a gallery look. Not all sizes are the same aspect ratio, so as you can see below, some of the sizes cut off more of the photo than others, this is common and unavoidable. I made two guides, one for landscape and one for portrait photos. All prints are the same size, but I thought it would be helpful to see the different orientations. A portrait 30×40  may not look as good as a standalone print above a couch as a landscape 30×40.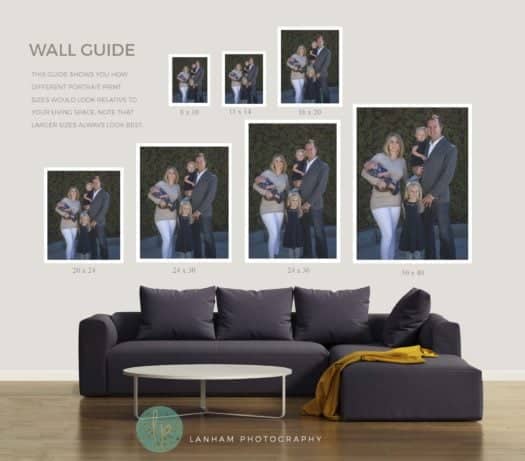 I hope this visualization helps you when deciding what size prints you need for your home. If you have any questions or concerns, or need help deciding what print would be best in your home, please contact me.