Little Miss' new room is in the center of the house. The doors leading into her bedroom are see-through and I wanted to obscure them a little bit, so we decided to use frosted glass spray paint. We talked about replacing the doors, but we like the fact that light comes into the room, because otherwise the room is pretty dark.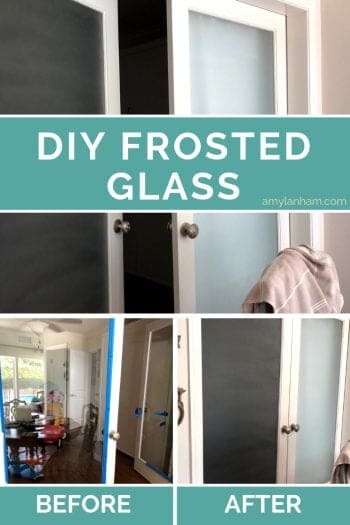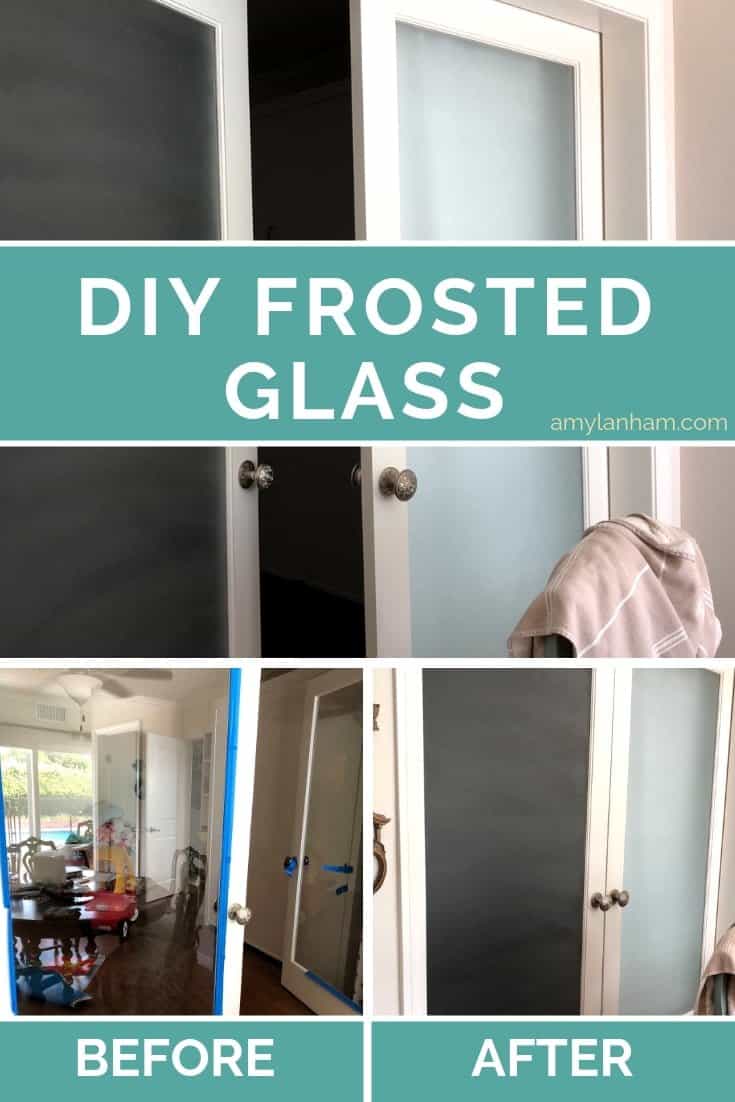 DISCLOSURE: This post may contain affiliate links. If you purchase items through my links I may earn a commission. You will not pay more when buying a product through my link and you do not have to use my links. I only recommend products & systems that I use and love myself, so I know you'll be in good hands. You can find our full policy here. Thank you in advance for your support.
We bought some light blocking curtains for nap time and night time, but wanted something that would obscure the back room so the kids weren't constantly looking back there.
We wanted something that was only going to be semi-permanent. After getting permission from the owners, we decided to do a DIY frosted glass spray. Originally, I wanted to use the sticky frosted glass that you just stick onto the window, but it was pretty expensive for my windows.
They are decently sized windows and after pricing it out it would've been between $40-70 to do the stick on. So I looked for other options that would be cheaper. I finally found this spray paint DIY frosted glass by Rustoleum, it was so much cheaper so I decided to go with that option.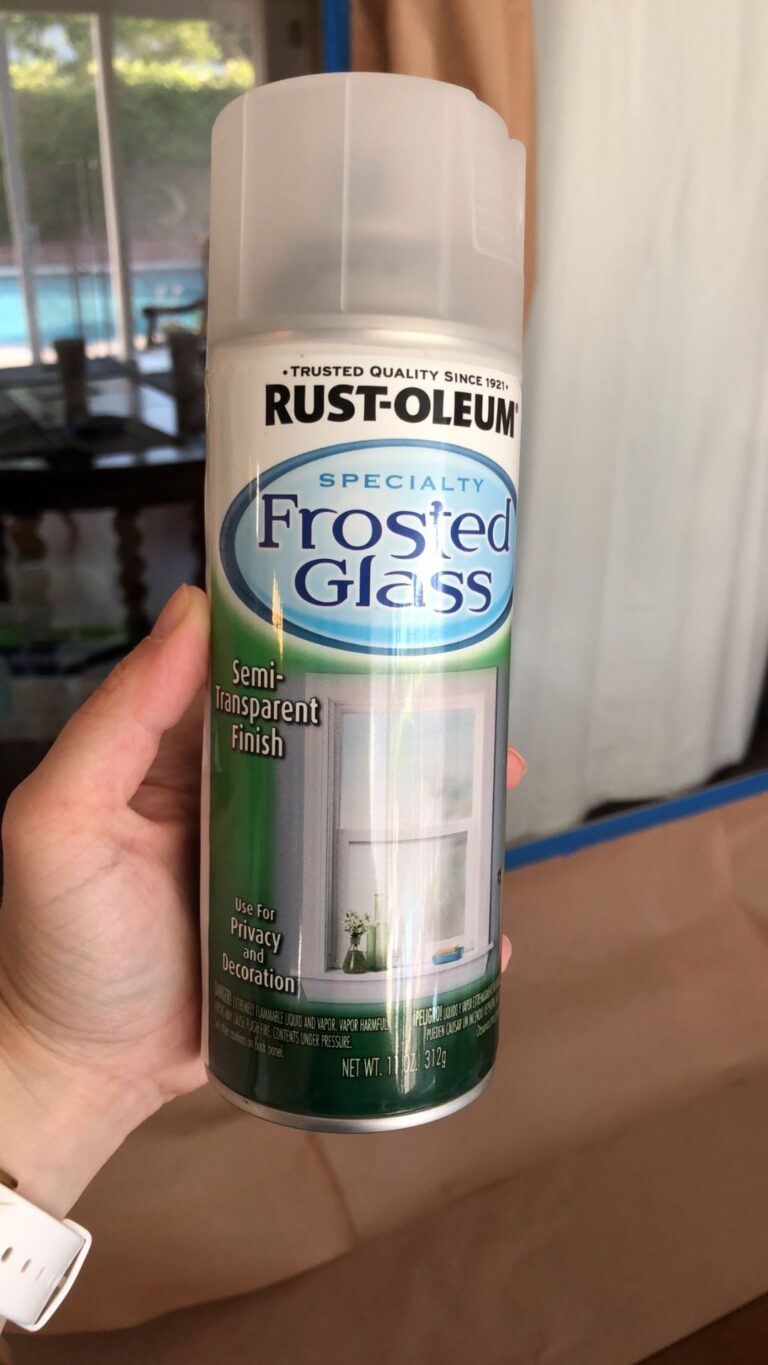 How to Frost Glass
The glass spray paint was pretty easy to use, but warning, do not use this inside! I made the mistake of not taking the doors off to use this.
I covered the wall and floor with paper and taped off the whole area, but the entire house ended up smelling like spray paint. And there was a powdery film across the entire back room.
It was easily vacuumed up, thankfully! Nothing was ruined, but it was a pain. I would have liked to do one more coat, but I had already cleaned up.
I was terrified that it wasn't going to clean up easily so I cleaned before making sure the doors were really finished. They're a little streaky, but it still does exactly what we wanted.
Yield: 1
DIY Frosted Glass
How to use spray on frosted glass to DIY frosted glass windows.
Materials
Rust-Oleum Frosted Glass Spray
Windows
Tools
I suggest taking your door off the hinges and spraying outside. See Notes below.
Face Mask
Painter's Tape
Brown Paper to cover floor
May need: Plastic Sheeting
Instructions
1. Prep your area. Tape off the sides of your window so as not to get overspray on the sides. Put the brown paper on the floor.
2. If you decide not to take the doors off the hinges or you are spraying a window that can't be moved, prep the area well. I suggest taping off sections of your house with plastic sheeting - see notes.
3. Clean your surface first. I used a vinegar mixture, but you can use windex as well.
4. Read the instructions on the can. You are supposed to shake the can well for 5-10 minutes before applying the paint.
5. Safety First: Wear a face mask!
6. Let the paint dry in between coats. You will probably do 3-5 light coats. Go slow and allow the paint to slowly build on the window. Be sure to not stay in one spot for too long to avoid drips.
Notes
A few notes:
The spray paint said each bottle covered about 7 square inches. So I bought the pack of 6 bottles. That was WAY too much. I could've easily bought 2 bottles and cut my cost even lower, making the whole project less than $10.
**THIS IS SPRAY PAINT** I don't know why this didn't cross my mind. I taped the doors and covered a little of the floor in front of the doors and sprayed inside the house. I can't stress enough what a mistake this was. The smell was very strong and eventually permeated the entire house. The paint also gets into the air and settles on everything. I didn't get a picture because I was too worried about cleaning everything. But basically the whole back room had a white film on it. Thankfully, the floor back there is concrete. It vacuumed up pretty easily and then we mopped. But none of the videos/blogs I read mentioned this.
Recommended Products
As an Amazon Associate and member of other affiliate programs, I earn from qualifying purchases.
If you are wondering how to frost a window for privacy this is definitely a good way to go. Overall, I think it turned out really great!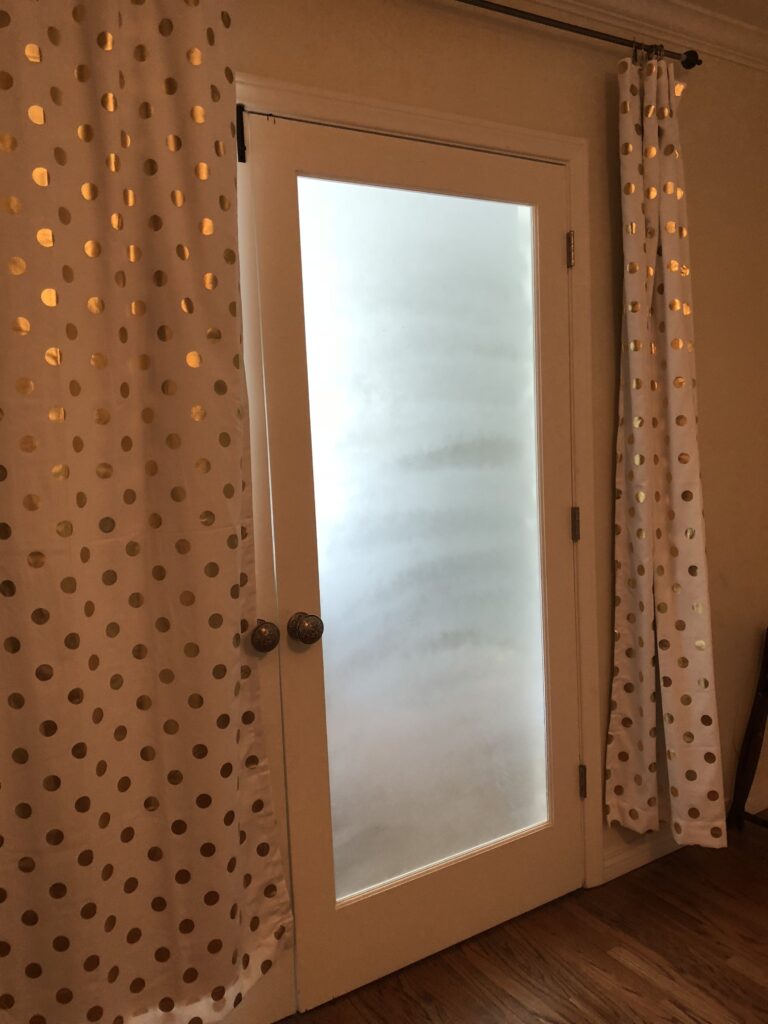 It definitely has the desired effect that I was going for. It obscures the backroom and lets in the same amount of light.
What do you think? Is this something that you would try in your house? We're thinking of stamping a design on top too, so I'll let you know if we go through with it!