Do you love creative DIY Christmas gifts? Me too! I'm always looking for something creative and unique to make my friends and family.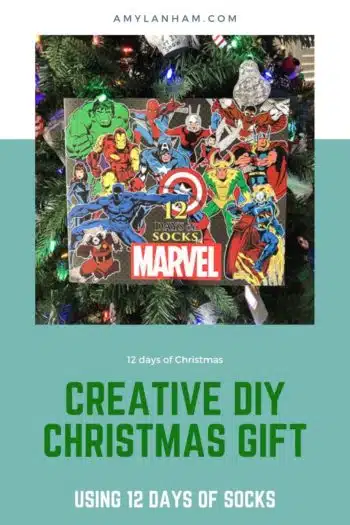 DISCLOSURE: This post may contain affiliate links. If you purchase items through my links I may earn a commission. You can find our full policy here. Thank you.
These 12 days of Christmas socks are exactly that! Now I know you're thinking, how does this qualify as a DIY. Well, you can't just give the socks on their own, now can you?
I mean, of course you could, but what fun is that! You have to put a special twist on it.
I opened up the socks, laid them out and added special little notes. You could definitely add other things inside as well.
This would be so cute with nail polish, lip or chapstick, lotion, bath bombs, candy, the options are really endless. The only thing limiting you is your imagination and the box size.
All you do is take the socks out, wrap your gift up in the socks, and then put all the socks back, close up the box and tape it closed. Your recipient will never know that theres anything else in the box until they start opening it!
I think these socks are pretty awesome on their own, but this is a way to make the gift a little extra special!
Yield: 1
Creative DIY Christmas Gift
This is the easiest 12 days of Christmas advent calendar idea with a super special twist!
Materials
Items to go in the socks or love notes
Instructions
Gather all your supplies that you want to wrap in the socks. You can print out words of love and cut them out or just write them on a piece of paper.
Open your box of socks from the side of the box. Be careful not to rip it or to tear any of the perforated doors.
Take out all the socks and keep them in the correct order. This won't actually matter for most of the boxes.
Unwrap the socks and wrap your love note or items inside the socks. Lay the socks back in there spot. I found it helpful to lay them all out on the table.
Carefully put all the socks with the item wrapped inside back in their spots. You'll have to layer them, putting the bottom ones in first and working your way up to the top.
Close up the box and tape it shut.
Give it to your recipient and don't say anything!
Notes
You can use anything that will be easy to wrap up in the socks. Think small items like nail polish, chapstick, small bath bombs. It would be fun to do multiple or all the same! And of course make sure to put words of love in too.