Have you ever tried a gratitude journal? It can make an amazing difference in your life.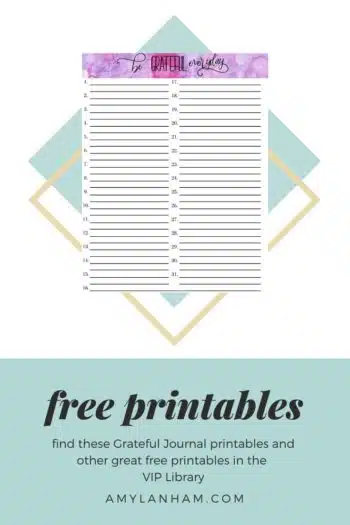 The first time I used a gratitude journal is 2018. It was a rough season for me. I had a 18 month old and was pregnant with my second.
I felt like I had no time to myself and I was sooo overly exhausted. Therefore, it was really easy to get into a 'woah is me' attitude.
So, I started using a gratitude journal nightly to help me recenter myself.
30 Day Grateful Journal
Of course, using a gratitude journal didn't make all my problems go away! But it helped to redefine my reality and remind me of all the great parts of my day.
I started by listing three things that I was grateful for that day. If it was a hard day I might try to list more.
It's not something I do every month, but I find when I am in a funk I can start again and it really help me.
If you're in a hard season, I recommend starting a gratitude journal today because it's wonderful to see all the things that are good even in hard times.
That's why I created this printable 30 day grateful journal to share with you!
You can find these printable gratitude pages, and other free printables in our VIP library. Join our VIP list below to receive access to all our freebies.

If you use these or other printables I'd love to see pictures! You can shoot me an email or tag me on Instagram.