When we bought the Ikea Kura bed, I knew I wanted to do something fun with it. There are tons of DIY's all over the internet and the bed has so many possibilities.
DISCLOSURE: This post may contain affiliate links. If you purchase items through my links I may earn a commission. You can find our full policy here. Thank you.
Originally, I had tried to make the panels on the bed into a chalkboard! It seemed like such a fun idea. It was my sons bed and we already had a chalkboard wall in his room.
This seemed like a great extension of that. But I didn't realize the paint would peel and it ended up being an epic fail. We put the bed together without me figuring out what I wanted to do.
I kept saying one day I would paint it, but I never did. Then a year later, we switched the kids bedrooms.
The Ikea Kura bed is the perfect bed to transition a toddler from crib to big kid bed. If you let the mattress sit on the floor, the sides of the bed come up over the mattress to give it a defined sleeping area.
It's impossible to fall out of the bed, which makes it perfect for kids who are used to the constraints of a crib! It won't make bedtime any easier (ha!) but it will help kids who fall out of bed at night.
And that was my little girl. We'd tried to transition her crib a few months earlier, but she'd fall out of bed at night and cry and cry. So instead of buying a new Ikea Kura bed, we switched her to my sons room and my son to her room where he could sleep on the murphy bed.
It was perfect! I set to decorating their new bedrooms and noticed, again, how ugly the bed looked since I'd messed it up. I knew I couldn't paint it again.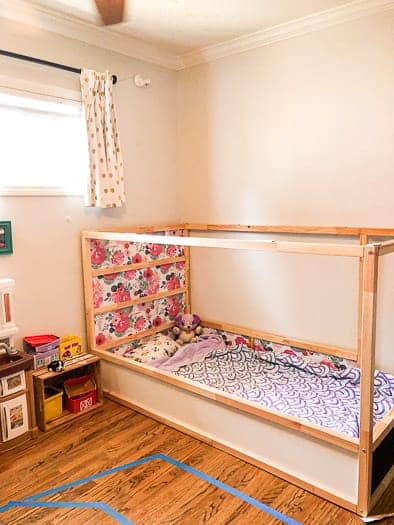 I found the perfect wallpaper on Amazon! It was inexpensive. I had done peel and stick wallpaper once before, and it didn't go so well, but I decided to try it again.
Fun Ikea Kura Bed for a Little Girl's Room
It was much easier to put the peel and stick wallpaper on the bed than it was to do on the wall. It helped to work in small sections.
I cut the wallpaper to the size I needed, then used a spatula to smooth it onto the bed. Any bubbles that formed I tried to smooth out and anything I couldn't smooth out, got pricked with a razor blade and then smoothed.
Overall, I love the way it turned out! My daughter loves it too. She tells everyone theres pretty flowers growing on her bed!