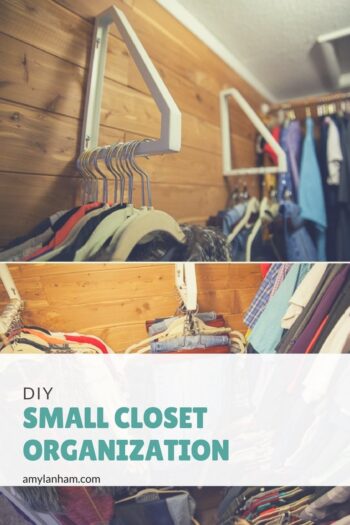 I don't know about you, but where I'm from we have the smallest closets! I've never understood this. We live in Los Angeles, so we don't have basements, there's no cellar. We have garages and closets. That's it. That's all the storage space. So over the years of moving from house to house, I've learned a couple of tricks. Here are my favorite tips for DIY closet organization:
DISCLOSURE: This post contains affiliate links. If you purchase items through my links I may earn a commission. You will not pay more when buying a product through my link and you do not have to use my links. I only recommend products & systems that I use and love myself, so I know you'll be in good hands. You can find our full policy here. Thank you in advance for your support.
DIY Closet Organization
Bins – Clear Plastic Bins
Do you have "shoe cubbies"? I've always thought it would be so cool to have these. But the truth is, you're shoes never look very good in them. Find some clear plastic storage bins that fit on your shelves and put your shoes in there. This will help the area look much less cluttered.
Also, if you have other oddly shaped shelves, make them usable by putting bins that easily slide inside. You can put socks, underwear, gloves, headbands, belts, or any other little things that normally don't have anywhere else to go.
Hanging Shoe Racks
For years, I have had an unnatural hatred towards hanging shoe racks. They never lay flat and I hate hanging them on the back of the door. That was until we moved into our most current home. We have a "walk-in closet". That's the dream right?!
Well, it's a very small walk-in closet, and just had a bunch of blank wall space. Sure all my shoes could have just been strewn all over the floor, but that's not ideal. So I bought these super cute hanging wall shoe racks from Walmart.
I love the color. I also loved that they don't budge. Why? I nailed them into the wall. All of our shoes are off the floor and super easy to put away now.
Shelf Brackets
I'm a very Type A person, and so I hate when everything doesn't fit just right. Pants in my closets have always been a struggle. I was that girl with a chair or dresser that would just have my pants strewn, sometimes folded, atop it.
That is until I found this DIY closet organization hack. I bought these shelf brackets from Ikea, turned them upside down and drilled them into the wall. Now I have the perfect mini hanging area for all my pants.
The wall was the perfect fit for 3 of these brackets. One for my pants, one for my sweaters and cardigans, and one for my husbands pants and shorts. This makes walking into the closet a little tighter, but the amount of frustration I save from having things that don't fit on the normal bars is worth it!
Shower Curtain Rings
You can get a pack of 12 for about a dollar. And let me tell you this is the greatest invention ever! You know those spaghetti strap tops that always get lost in your closet or continuously fall off hangers? How about all your scarves and belts? Do you put those on just one hanger and hope for the best?
Well, STOP! No more. Buy yourself some of these plastic shower curtain rings. Attach those babies to your hangers or from my favorite, towel racks, and tame that mess. You can use each ring to hold just one item or organize by style/color.
Take Off the Doors
Sliding doors on closets bug me. I feel like whatever I need is always behind the other door! And then I'm constantly sliding them back and forth.
I just want to look at all my clothes at once! I have such a hard time deciding what to wear, and this just adds to my frustration.
My simple solution: take them off. You'll be amazed at how much simpler putting clothes away will be. It will also semi-force you to keep your closet clean.
Wait, am I suggesting you don't have anything covering your closet? Of course not! Get a spring rod or curtain rod and some nice curtains. Now you can easily open the closet all the way up, do what you need, and then close whatever mess there is behind those curtains!
Bonus: Out of Closet Storage
Other Shoe Storage
Now while this will be the third shoe storage solution on this list, I think it's warranted. I'm your typical girl and I have a lot of shoes.
So it's only fair to give you some other shoe storage options. While these aren't technically for the closet, they will help your closet be much more organized!
If you have shoes that you don't wear all the time, think about getting an under the bed storage bag like this one. I had it for years and loved it. I put all my "nice" shoes that I only wear a couple times a year in it.
Another option that I love, is a shoe storage ottoman. I saw these years ago and really wanted one, but it was so expensive. They are starting to come out with more affordable options! If you're in the market for an ottoman anyway, this would be a great way to get some storage too!
Space Bags
I found Space Bags last year and they have been so helpful! At the start of summer, I took all my winter clothes and put them in Space Bags, then I switched once it started getting cold.
Sure in California I can wear my "summer clothes" year round. But I like this for two reasons: One, I clear out some space in my closet of clothes I won't frequently wear that time of year. Two, at the end of the season it's like I have a whole "new" wardrobe! I also love Space Bags for storing extra blankets and kids clothes that either no longer fit or that they haven't grown into yet.
Whew. That's a lot of tips! Which DIY closet organization tip is your favorite? Let me know in the comments. Then, go and implement it tonight!